| | |
| --- | --- |
| Book Name: | The Messy Middle Book |
| Category: | Startup Books |
| Language: | English |
| Format: | PDF |
| Free Download: | Available |
Free Download The Messy Middle: Finding Your Way Through the Hardest and Most Crucial Part of Any Bold Venture Epub Book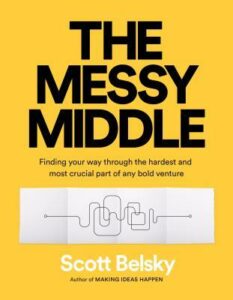 Book Description: 
Scott Belsky is an entrepreneur, Chief Product Officer at Adobe, and a product advisor to many of today's top start-ups. He thinks that we focus too much on the beginning and end of a project and ignore the most critical part, which is the messy middle, where success is decided.
Making something out of nothing is a bumpy road. The first mile is about coming up with a new idea, and the last is about letting go. Even though the middle part is the most important and often the most overlooked and misunderstood, we love to talk about the beginning and the end.
Every business or creative project is "going great" until it fails. The bumps along the way are dealt with alone. We don't talk about the middle because we're not proud of the trouble we caused ourselves and what we did out of desperation. The goal of this book is to change that.
Belsky uses the seven years he spent building Behance, selling it to Adobe and leading product teams there, and then investing in and advising companies like Airbnb, Pinterest, Uber, and Sweetgreen to come up with the most important things he has learned about building a business at every stage. He uses examples from some of the most exciting people and teams, from entrepreneurs to writers to small start-ups to billion-dollar companies that changed their industries.
These essential tips for getting through and making the most of the middle miles will give you more confidence and help you stick to your plans to Maximize the Middle.
Download The Messy Middle: Finding Your Way Through the Hardest and Most Crucial Part of Any Bold Venture Book 
Author(s): Scott Belsky
Publisher: Portfolio, Year: 2018
ISBN: 0735218072,9780735218079
Related More Books