| | |
| --- | --- |
| Book Name: | Well Engineering and Construction by Hussain Rabia |
| Category: | Civil Engineering Books |
| Language: | English |
| Format: | PDF |
| Free Download: | Available |
Well Engineering and Construction by Hussain Rabia | PDF Free Download. 
Book Details :
Language
English
Pages
640
Format
PDF
Size
8.50 MB
---
Well Engineering and Construction by Hussain Rabia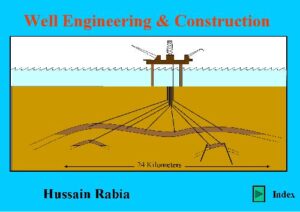 ---
Well Engineering and Construction Contents
---
Chapter 1: Pore Pressure 

Chapter 2: Formation of Integrity Tests

Chapter 3: Kick Tolerance

Chapter 4 : Casing Functions & Types

Chapter 5: Casing Design Principles

Chapter 6: Cementing 

Chapter 7: Drilling Fluids 

Chapter 8: Practical Rig Hydraulics 

Chapter 9: Drill Bits 

Chapter 10: Drillstring Design 

Chapter 11: Directional Drilling 

Chapter 12: Hole Problems

Chapter 13: Horizontal & Multilateral Wells

Chapter 14: Rig Components 

Chapter 15: Well Costing
Introduction to Well Engineering and Construction PDF
---
This chapter will present the origins of pore pressure and principles of its determination. It should be emphasized here that this subject alone requires more than one book to cover in detail.
Hence the emphasis will be placed on the practical utilization of pore pressure in the good planning process.
The ideas presented here are hoped to help the engineer understand lithological columns better and deduce potential hole problems before producing a final well plan. Knowledge of formation pressures is vital to the safe planning of a well.
Accurate values of formation pressures are used to design safe mud weights to overcome fracturing the formation and prevent well kicks.
The process of designing and selection of casing weights/grades is predominately dependent on the utilization of accurate values of formation pressure.
Cementing design, kick control, selection of wellhead and Xmas trees and even the rig rating are dependent on the formation pressures encountered in the well.
All formations penetrated during the drilling of a well contain pressure which may vary in magnitude depending on depth, location, and proximity to other structures.
In order to understand the nature, extent, and origin of formation pressures, it is necessary to define and explain basic wellbore pressure concepts.
Well Engineering and Construction
Author(s): H. Rabia
Publisher: Entrac Consulting, Year: 2001
ISBN: 9780954108700,0954108701
Download Well Engineering and Construction by Hussain Rabia in PDF Format For Free. 
Related More Books