| | |
| --- | --- |
| Book Name: | The 7 Figure Agency Roadmap |
| Category: | Startup Books |
| Language: | English |
| Format: | PDF |
| Free Download: | Available |
Free Download The Seven Figure Agency Roadmap: How to Build a Million Dollar Digital Marketing Agency Epub Book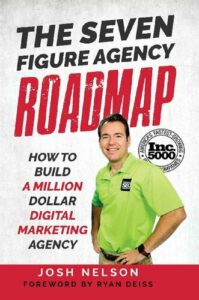 Book Description: 
The Seven-Figure Agency Roadmap is an essential tool for people who own digital marketing agencies. You can make more money, work when and how you want, help your clients get excellent results, and live the life you want. The Seven Figure Agency is made to help you with the following problems:
• Too many organizations reach a limit on their income and never make as much money (or have as much impact) as possible. They get one of the three plateaus: Startup, Struggle, or Maybe Even Success
• Most agencies blame themselves and try to change their MINDSET, but nothing changes because the problem is not with your mindset. The way things are done needs to change.
• When you started your agency business, you bought into a model that can't be scaled (manually prospecting to get a few leads, chasing prospects instead of having them come to you, and living off of project revenue, so you never have a steady income or time).
• In the last five years, the author has worked with a small group of agencies to help them move from Struggle to Success, Scale, and Significance. Josh Nelson has a new way of doing things, and he shares the best of what is working in his business and the businesses he works with to help them make a million dollars. This book is a must-read for all types and levels of agencies, but especially for those who want to start a digital marketing agency. It will help them avoid growing pains and speed their growth to Seven Figures & Beyond.
Forget that a general digital marketing agency takes years to set up. With The Seven Figure Agency Roadmap, you don't have to wait. The Seven Figure Agency Roadmap is your guide, whether your goal is to set your schedule or make $60,000 a month.
This step-by-step guide to building a digital agency shows the following:
• How Josh went from being almost bankrupt to running a hypergrowth agency that made the Inc 5000 list of the fastest-growing companies in the United States four years in a row. How to assemble a team that will run the day-to-day business, how the best agency owners make seven figures in a year, and How to bring in an extra $5,000 a month in recurring income for your agency. How to quickly become a leader in any niche so that people want to hire you.
When you buy the book, you can use the workbook to put the ideas into action:
• Multiple case studies and long-form interviews with members of Seven Figure Agency Coaching who have grown their revenue to seven figures, hired teams to replace themselves or sold their agencies for a nice profit. • Josh's templates for setting goals, marketing design, and performance tracking.
Download The Seven Figure Agency Roadmap: How to Build a Million Dollar Digital Marketing Agency Book 
Author(s): Josh Nelson
Publisher: Best Seller Publishing, LLC, Year: 2019
Related More Books