| | |
| --- | --- |
| Book Name: | Building Codes Illustrated by Francis D. K. Ching |
| Category: | Civil Engineering Books |
| Language: | English |
| Format: | PDF |
| Free Download: | Available |
Building Codes Illustrated A Guide to Understanding the 2018 International Building Code by Francis D. K. Ching | PDF Free Download. 
Book Details :
Language
English
Pages
823
Format
PDF
Size
59.7 MB
---
Building Codes Illustrated by Francis D. K. Ching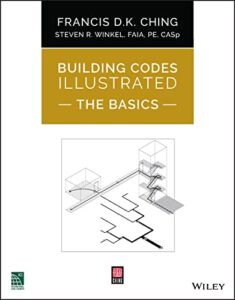 Book Description:
A visual introduction to the Fundamentals of the 2021 International Building Code
In Building Codes Illustrated: The Basics, architectural illustration expert Francis D.K. Ching and California architect and engineer Steven R. Winkel deliver a concise visual introduction to the 2021 International Building Code (IBC) distilled from the industry bestseller Building Codes Illustrated. With clear language and Frank Ching's distinctive illustrations, the book offers readers a sound understanding of the foundations of the IBC.
The authors cover only the most relevant topics, and have designed this book to serve as a companion textbook for students taking introductory courses. Building Codes Illustrated: The Basics is also an essential study resource for the Codes and Regulations section of the Architect Registration Exam developed by NCARB.
This book also provides:
A solid understanding of the fundamentals of the 2021 International Building Code for students without a background in architecture or engineering
Intuitive and memorable study material for people seeking licensure via the Architect Registration Exam
Visually striking and memorable material designed to catch the reader's eye, hold attention, and improve retention
Perfect for undergraduate students in 2- to 4-year courses studying building codes and specifications, Building Codes Illustrated: The Basics is also ideal for early-career professionals in architecture, interior design, construction management, and engineering.
---
Building Codes Illustrated Contents
---
Chapter 1: Building Codes

Chapter 2: Navigating the Code

Chapter 3: Use and Occupancy

Chapter 4: Special Detailed Requirements Based on Occupancy and Use

Chapter 5: Building Heights and Areas

Chapter 6: Types of Construction

Chapter 7: Fire-Resistive Construction

Chapter 8: Interior Finishes

Chapter 9: Fire-Protection Systems

Chapter 10: Means of Egress

Chapter 11: Accessibility

Chapter 12: Interior Environment

Chapter 13: Energy Efficiency

Chapter 14: Exterior Walls

Chapter 15: Roof Assemblies

Chapter 16: Structural Provisions

Chapter 17: Special Inspections and Tests

Chapter 18: Soils and Foundations

Chapter 19: Building Materials and Systems

Chapter 20: Existing Structures
Preface to Building Codes Illustrated 6th Edition
---
The primary purpose of this book is to familiarize code users with the 2018 International Building Code ® (IBC). It is intended as an instructional text on how the Code was developed and how it is organized, as well as a primer on how to use the Code.
It is intended to be a companion to the IBC, not a substitute for it. This book must be read in concert with the IBC. Many designers feel intimidated by building codes. They can seem daunting and complex at first glance.
It is important to know that they are a product of years of accretion and evolution. Sections start and are modified, and new material is added to address additional concerns or to address interpretation issues from previous code editions.
The complexity of a building code often comes from this layering of new information upon old without regard to overall continuity. It is important to keep in mind that there is no single author of the building code. Each section has a different author.
Building codes are living documents, constantly under review, and modification. It is vital to an understanding of codes to keep in mind that they are a human institution, written by ordinary people with specific issues in mind or specific agendas they wish to advance.
Over the past several editions of the IBC, there has been an increase in the number of code revisions made to "clarify" the code.
This trend has often resulted in the reorganization of code sections, often without any substantive changes. These changes can be upsetting and confusing for those code users who are familiar with the previous code editions.
It may seem that familiar and well-understood code provisions have disappeared when in actuality they have just been relocated and renumbered.
We strongly recommend that code users obtain electronic copies of the codes. These lend themselves to keyword searches that make it possible to find moved provisions based on the unchanged text content.
For identifying and understanding the major changes from one edition of the code to the next we suggest obtaining the Significant Changes to the IBC published by the International Code Council.
Building Code

Webster's Third New International Dictionary defines a building code as: "A set of rules of procedure and standards of materials designed to secure uniformity and protect the public interest in such matters as building construction and public health, established usually by a public agency and commonly having the force of law in a particular jurisdiction."
This book is designed to give an understanding of how the International Building Code is developed, how it is likely to be interpreted, and how it applies to design and construction.
The intent of this book is to give a fundamental understanding of the relationship of codes to practice for design professionals, especially those licensed or desiring to become licensed as architects, engineers, or other registered design professionals.
Code knowledge is among the fundamental reasons for licensing design professionals, for the protection of public health, safety, and welfare. It is our goal to make the acquisition and use of code knowledge easier and clearer for code users.
How and Why to Participate in the ICC Code Development Process
Architects, designers, engineers, and other professionals can freely participate in the ICC Code Development Process by submitting proposed code changes, collaborating with colleagues in developing code language and submitting changes, participating in giving testimony,
And becoming ICC members to have voting opportunities in person or online at the Committee Action Hearings. The Code Development Process is conducted via ICC's state of the art cloud-based cdpACCESS system. Committee Action Hearings and Public Comment Hearings are broadcast live so anyone can follow the testimonies and actions taken.
All building design and construction professionals are encouraged to participate in the ICC Code Development Process and have a say in the outcome of future International Building Codes or any other of the ICC International Codes.
Because architects, engineers, and other design and construction professionals apply the code to actual buildings and experience first-hand the effectiveness of code provisions, it is very critical for them to participate in the code development process and improve the code each cycle.
How Building Codes Illustrated eBook Is Organized
The first two chapters of this book give background and context regarding the development, organization, and use of the IBC. Chapters 3 through 18 are organized and numbered the same as the corresponding subject matter chapters in the IBC.
Chapter 19 summarizes the requirements in the remaining IBC chapters. Chapter 13 refers briefly to the energy provisions of the International Code family, which are contained in a separate code, the International Energy Conservation Code (IECC), and which are beyond the scope of this book.
Chapter 20 touches on the code provisions for existing buildings, which are no longer included in the IBC but occur in the International Existing Building Code (IEBC).
Text that is new or revised for the Sixth Edition is denoted by blue text. This is similar to markings used in the IBC to indicate changes in code provisions.
The IBC uses green text to denote changes and arrows to denote deletions. We strongly recommend that users study the Code very carefully for changes and compare old copies of the Code to the new copies as you become familiar with the new Code.
Building Codes Illustrated: The Basics
Author(s): Francis D. K. Ching, Steven R. Winkel
Publisher: Wiley, Year: 2022
ISBN: 1119772516,9781119772514
Download Building Codes Illustrated 6th Edition by Francis D. K. Ching in PDF Format For Free. 
Related More Books