| | |
| --- | --- |
| Book Name: | Practical Projects for Self-Sufficiency DIY |
| Language: | English |
| Format: | PDF |
| Free Download: | Available |
Practical Projects for Self-Sufficiency DIY Projects to Get Your Self-Reliant Lifestyle Started by Chris Peterson and Philip Schmidt | PDF Free Download. 
Book Details :
Language
English
Pages
163
Format
PDF
Size
73.4 MB
Practical Projects for Self-Sufficiency DIY
Practical Projects Contents 
---
Section 1: Food Preparation and Preservation
Cider Press 

Herb-Drying Rack

Solar Oven

Solar Fruit Dryer
Section 2: Homestead Amenities
Backyard Fire Pit

Firewood Shelter

Frame Loom

 Solar Still

Manual Laundry Washer 

Pet Door

Metal Kit Shed

Post-and-Board Fence 
Section 3: Garden Aids
Clothesline Trellis 

Two-bin Composter

Basement Vermiculture Bin

 Potato-Growing Box 

Soil Sifter 

Octagon Strawberry Planter and Cover 

Teepee Trellis 

Jumbo Cold Frame 

Raised Bed With Removable Trellis 

Pallet Planter 
Section 4: Raising Animals
Chicken Coop 

Brooder Box

Bee Hive
Introduction to Practical Projects for Self-Sufficiency DIY
---
Living a more independent lifestyle is a rewarding goal. By learning to do more things yourself you gain control of the how and when and what of modern life.
The projects in this book are designed to help you reach the goal of self-sufficient living. The best part is that you don't need to sell your townhome and move to 80 acres in the mountains to make use of these projects.
Pick off a few here and there and you can participate in the self-sufficient way of being without making the sacrifices required when living off the grid.
Why aspire to self-sufficiency? Because of the pace of modern life can be overwhelming. All too often, the amazing technology that was supposed to free us and make life better and better instead becomes a drain on our money, time, and joy.
As we've tried to improve our lives through progress and efficiency, we have ironically gotten further from many things that make life healthy, rewarding, and fulfilling. It's just a matter of cause and effect.
Medical advances that allow for gene therapy are used to create GMO foods of unproven safety. Ever-ready energy supply has ensured that our lives are more comfortable and convenient than ever before; but our environment pays for that convenience in the fallout from fracking, the pollution of coal-fired power plants, and the occasional devastating oil spill.
All the while, modern life seems to demand that we move faster, do more, make more, and consume more.
Along the way, we've become less able to do for ourselves, and more in the habit of buying everything we need regardless of the environmental and personal consequences. And make no mistake, there are consequences.
As we continue to fill landfills at an alarming rate, see our water tables and well water increasingly become contaminated, and learn more about how corporate farming is creating a less diverse food-supply chain, the global and environmental benefits of what's come to be known as "self-sufficient living" become more relevant and more apparent.
By saving water, raising food that doesn't involve long-distance transport (and all the fuel and pollution that transportation entails), and finding new ways to create what we need using only the energy in our bodies, we're not only helping ourselves, we're helping the world.
Those upsides are attracting growing numbers of people to a self-sufficient lifestyle. The fact that you're reading this book means that chances are, you're one of those people.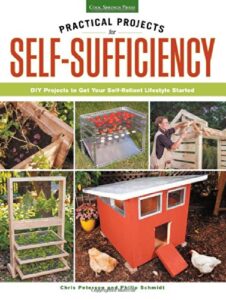 Download Practical Projects for Self-Sufficiency: DIY Projects to Get Your Self-Reliant Lifestyle Started PDF 
Author(s): Chris Peterson, Philip Schmidt
Publisher: Cool Springs Press, Year: 2014
ISBN: 1591865956,9781591865957
Download Practical Projects for Self-Sufficiency DIY in PDF Format For Free. 
Related More Books
See More POST On : Engineering Books