| | |
| --- | --- |
| Book Name: | Noise and Vibration Control for HVAC |
| Language: | English |
| Format: | PDF |
| Free Download: | Available |
Noise and Vibration Control for HVAC CIBSE Guide B5 | PDF Free Download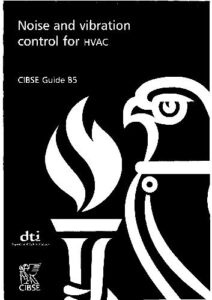 Book Details :
Language
English
Pages
62
Format
PDF
Size
5.04 MB
Noise and Vibration Control for HVAC
Noise and Vibration Control for HVAC Contents
---
Introduction 

Summary of noise and vibration problems from HVAC

Noise sources in building services 

Noise control in plant rooms 

Airflow noise regeneration of noise in ducts

Techniques for control of noise transmission in ducts

Room sound levels

Transmission of noise too and from the outside

Criteria for noise in HVAC systems

Noise prediction

Vibration problems and control

Summary of guidance on noise and vibration control
Foreword to Noise and Vibration Control for HVAC PDF
---
Any air conditioning or mechanical ventilation system will inevitably produce noise. The hallmark of a well-designed HVAC system is that the noise it generates does not cause problems for the occupants.
Naturally ventilated buildings are not exempt from problems either, as they require openings in the building envelope to admit external air, and they may also admit unacceptable levels of external noise.
Some noise is useful in masking sounds from colleagues and other sources and in multi-occupied offices it is important to provide privacy. Excessive noise from outside or from H'A( discomfort, unease amongst those working in the building) may contr communications, especially in open spaces.
These all contribute to reduced productivity, since those who are not comfortable in their surroundings are not fully effective.
The building services engineer is expected to take responsibility for the control of noise, whether from the mechanical plant or external noise transmitted through the system.
Where noise is related to the building design, such as natural ventilation openings, the engineer needs to liaise with the architect and agree on suitable locations for air inlets.
Air inlets for natural ventilation systems are normally placed where they are remote from sources of air pollution and noise sources such as traffic, but they may be exposed to other sources of noise.
In some cases, the services engineer may be responsible for all service noise in a building, including pumps, lifts, and escalators.
This new Guide section, Noise and vibration control for HVAC which replaces section B12 of the 1986 edition of Guide B, provides comprehensive guidance on the identification and prediction of sources of noise and vibration in ventilation plants, and of the tools and techniques that are available to control them.
It has been prepared by a Steering Committee comprising experts in the application of acoustics and vibration control and addresses developments in the field since the previous edition was published.
The Guide will be a valuable tool both for acousticians and HVX: design engineers.
Download Noise and Vibration Control for HVAC in PDF Format For Free. 
Related More Books
See More POST On : Engineering Books