| | |
| --- | --- |
| Book Name: | Short-Circuit Currents by J. Schlabbach PDF Free Download |
| Language: | English |
| Format: | PDF |
| Free Download: | Available |
Short-Circuit Currents by J. Schlabbach PDF Free Download 
---
Book Details :
Language
English
Pages
336
Format
PDF
Size
1.40 MB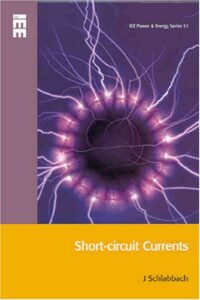 ---
Short-Circuit Currents by J. Schlabbach | PDF Free Download.
Short-Circuit Currents Contents
---
Introduction

Theoretical background

Calculation of impedance of electrical equipment

Calculation of short-circuit current in a.c. three-phase HV-systems

Influence of neutral earthing on single-phase short-circuit currents

Calculation of short-circuit currents in low-voltage systems

Double earth-fault and short-circuit currents through the earth

 Factors for the calculation of short-circuit currents

Calculation of short-circuit currents in d.c. auxiliary installations

 Effects of short-circuit currents

Limitation of short-circuit currents

Special problems related to short-circuit currents

Data for equipment
Foreword to Short-Circuit Currents PDF
---
Short-circuit currents are the dominating parameters for the design of equipment and installations, for the operation of power systems and for the analysis of outages and faults.
Besides the knowledge about the design of equipment in power systems, in auxiliary installations and about system operation constraints, the calculation of short-circuit currents is a central task for power system engineers.
The book describes the individual equipment in power systems with respect to the parameters needed for short-circuit current calculation as well as methods for analyzing the different types of short-circuits in power systems using the system of symmetrical components.
Besides the detailed explanation of the calculation methods for short-circuit currents and their thermal and electromagnetic effects on equipment and installations, short-time interference problems, and measures for the limitation of short-circuit currents are explained.
Detailed calculation procedures for the parameters and typical data of equipment are given in a separate chapter for easy reference.
All aspects of the book are explained with examples based on engineering studies carried out by the author. The preparation of the book was finalized in December 2004 and reflects the actual status of the technique, norms, and standards.
Carrying out short-circuit studies always requires the application of the latest editions of standards, norms, and technical recommendations, which can be obtained from the IEC-secretariat or from the national standard organization.
All comments in this book are given in good faith, based on the comprehensive technical experience of the author.
The author wishes to thank very much his former colleague Dipl.-Ing. Heiner Rofalski for revising the text and improving the book.
Most of the drawings were prepared by my students Stefan Drees and Elmar Vogel who spent much effort to obtain a clear and understandable presentation.
My thanks also go to the IEEpublishers staff, especially to Ms. Sarah Cramer who encouraged me to write this book. Comments are highly appreciated.
Professor Dr.-Ing. Jürgen Schlabbach, born in 1952, member IEEE and VDI, studied power system engineering at the Technical University of Darmstadt/Germany, from where he got his Ph.D. in 1982.
Until 1992 he worked in a consulting engineering company, responsible for planning and designing public and industrial supply systems.
Since 1992 he has been a professor for 'Power system engineering and utilization of renewable energy' at the University of Applied Sciences in Bielefeld/Germany.
His main working areas are planning of power systems, analysis of faults, power quality, interference problems, and connection of renewable energy sources to power systems. He is also a consulting engineer in the mentioned fields.
Download Short-Circuit Currents by J. Schlabbach in PDF Format For Free.
Related More Books
See More POST On : Engineering Books