| | |
| --- | --- |
| Book Name: | Bold: How to Go Big, Create Wealth and Impact the World |
| Language: | English |
| Format: | PDF |
| Free Download: | Available |
Free Download Bold: How to Go Big, Create Wealth and Impact the World PDF Book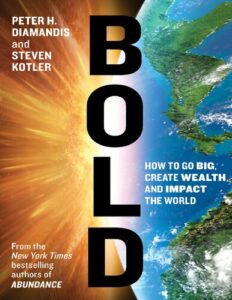 Book Description:
"A visionary plan for people who think they can change the world, along with helpful tips on how to find the right partners and technologies to help them do it." —President Bill Clinton
Bold is a radical how-to guide divided into three sections using exponential technology, moonshot thinking, and crowd-powered tools. Part One is about the exponential technologies that are shaking up today's Fortune 500 companies and making it possible for new entrepreneurs to go from "I have an idea" to "I run a billion-dollar company" much faster. The authors show how powerful 3D printing, artificial intelligence, robotics, sensor networks, and synthetic biology can be. In Part Two, ideas from billionaires like Larry Page, Elon Musk, Richard Branson, and Jeff Bezos are used to show how they built their businesses. Bold ends with a look at the best ways for anyone to use today's highly connected crowd in ways that have never been done before.
In this book, the authors explain how to make and use incentive competitions, how to start million-dollar crowdfunding campaigns to get access to tens of billions of dollars in capital, and how to build communities of people who are willing and able to help today's entrepreneurs make their biggest dreams come true.
Table of contents :
Dedication
Introduction
Part One: Bold Technology
Chapter One: Good-bye, Linear Thinking . . . Hello, Exponential
Chapter Two: Exponential Technology: The Democratization of the Power to Change the World
Chapter Three: Five to Change the World
Part Two: Bold Mindset
Chapter Four: Climbing Mount Bold
Chapter Five: The Secrets of Going Big
Chapter Six: Billionaire Wisdom: Thinking at Scale
Part Three: The Bold Crowd
Chapter Seven: Crowdsourcing: Marketplace of the Rising Billion
Chapter Eight: Crowdfunding: No Bucks, No Buck Rogers
Chapter Nine: Building Communities
Chapter Ten: Incentive Competitions: Getting the Best and Brightest to Help Solve Your Challenges
Afterword: Next Steps—How to Take Action
Acknowledgments
About Peter H. Diamandis and Steven Kotler
Notes
Index
Copyright
Download Bold: How to Go Big, Create Wealth and Impact the World PDF 
Author(s): Peter H. Diamandis, Steven Kotler
Series: Exponential Technology
Publisher: Simon & Schuster, Year: 2015
ISBN: 9781476709567,9781476709604
Related More Books
See More POST On : Engineering Books