| | |
| --- | --- |
| Book Name: | Copycat Recipes PDF |
| Author: | Emily Barrel |
| Category: | Cooking Books |
| Language: | English |
| Format: | PDF |
| Free Download: | Available |
Copycat Recipes: Delicious, Quick, Healthy and Easy to Follow Cookbook For Making Your Favorite Restaurant Dishes at Home. Including Cooking Techniques for Beginners, From Appetizers to Desserts.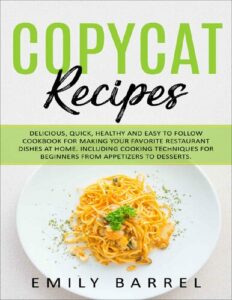 Book Description:
Everyone loves to eat out at restaurants because it's easy, fun, and you get to eat great food. But because of the current economic crisis, restaurants, diners, and fast-food places are getting more expensive daily. Sometimes it seems like going to a restaurant is more of a treat and a privilege than something you do daily.
What if you could make all the great dishes from restaurants at home? We aren't talking about making the same dish. Nope, we're not aiming that low.
This book tells you things about cooking that five-star chefs and restaurants don't want you to know. This book has everything, from cooking tips to secret ingredients and everything in between.
So here is a small sample of what you get:
A detailed look at chefs' different techniques to make their food crispier, creamier, and more delicious.
A guide to using simple tools and utensils that make all the difference when cooking even the simplest dishes
There are dozens of recipes for breakfast, lunch, and dinner served in some of the best restaurants.
There are many recipes for appetisers, snacks, and desserts that will make you the talk of your friends and family.
Plus, a lot more!
Table of contents :
INTRODUCTION
APPETIZER RECIPES
CPK BBQ Chicken Pizza Copycat
Taco Bell Crunchwrap Supreme Copycat
Copycat Taco Bell Stackers
Copycat Olive Garden Breadsticks
Copycat Starbucks Bistro Box
Taco Bell Nacho Fries Bellgrande Copycat
Red Robin Fried Pickle Nickels Copycat
Copycat Texas Roadhouse Rattlesnake Bites
Costco Chicken Bake Copycat
Cheesecake Factory Avocado Egg Rolls
Copycat Chick-fil-A Chicken Sandwich
Rock Bottom Ball Park Soft Giant Pretzels Copycat
Copycat Red Lobster Fried Oysters
Copycat Buffalo Wild Wings Ultimate Nachos
California Pizza Kitchen Spinach Artichoke Dip Copycat
Maggiano's Little Italy Bruschetta Bar Tour Feta Bruschetta Copycat
Benihana Spicy Edamame Copycat
BJ's Restaurant & Brewhouse Crisp Potato Skins Copycat
The Cheesecake Factory Fried Macaroni and Cheese Copycat
BREAKFAST AND BRUNCH
Starbucks Chia Latte Copycat
Taco Bell Breakfast Crunchwrap Supreme Copycat
Olive Garden Smoked Mozzarella Fondue Copycat
Disney Tonga Toast Copycat
Red Lobster Crab Alfredo Copycat
Waffle House's Waffles Copycat
Cocos' Santa Fe Quiche Copycat
Burger King's French Toast Sticks Copycat
Dennys' Ham and Cheese Omelette Copycat
SALADS AND DRESSING
Panera Strawberry Dressing Copycat
Copycat Applebee Mandarin Salad
Copycat Olive Garden Salad Dressing
Chart House Blue Cheese Salad Dressing Copycat
Café Rio Cilantro Salad Dressing Copycat
Copycat Panera Strawberry Salad with Poppy Seed Dressing
Copycat Wendy's Apple Pomegranate Salad
Copycat Chili's Santa Fe Chicken Salad
Panera Bread's Green Goddess Cobb Salad with Chicken Copycat
Cheesecake Factory's Beets With Goat Cheese Salad Copycat
Chipotle's Steak Salad Copycat
McAlister's Deli Harvest Chicken Salad Copycat
Texas Roadhouse's Roadhouse House Salad Copycat
Culver's Cole Slaw
Chick-fil-A's Cobb Salad
Applebee's Oriental Chicken Salad Copycat
SOUPS AND CHILI
Copycat Wendy's Chili
Panera Bread Autumn Squash Soup Copycat
Copycat Olive Garden Pasta e Fagioli
Copycat Macaroni Grill™ Pasta Milano Soup
Panera Creamy Chicken & Rice Soup Copycat
Olive Garden Zuppa Toscana Soup Copycat
Copycat Panera Bread Broccoli Cheddar Soup
Chicken & Dumplings Soup from Cracker Barrel Copycat
Culvers Wisconsin Cheese Soup Copycat
The Corner Bakery Mom's Chicken Noodle Soup Copycat
TGI Friday's French Onion Soup from Copycat
Bennigan's Ultimate Baked Potato Soup Copycat
Chili's Chicken Enchilada Soup Copycat
Culver's Wisconsin Cheese Soup Copycat
Copycat Red Lobster New England Clam Chowder
California Pizza Kitchen Tomato Basil Bisque Copycat
Zoup Chicken Potpie Soup Copycat
Atlanta Bread Company Butternut Squash Soup Copycat
Bob Evans Hearty Beef Vegetable Soup Copycat
Panera Bread Cream of Chicken & Wild Rice Soup Copycat
Copycat Qdoba Tortilla Soup
MAIN DISH COPYCAT RECIPES
Copycat Panda Express Honey Walnut Shrimp
PF. Chang Copycat Lettuce Wrap
Panda Express Orange Chicken Copycat
KFC Crispy Fried Chicken Copycat
Copycat Chipotle Mexican Grill Chicken
Olive Garden's 5-Cheese Ziti Al Forno Copycat
Copycat Olive Garden Garlic Rosemary Chicken
Chipotle Cilantro Lime Rice Copycat
McDonald's Cheddar Melt Copycat
Copycat Cheesecake Factory Shrimp Scampi
Chipotle-Inspired Burrito Bowl
P.F. Chang's-Inspired Mongolian Beef
Copycat Chili's Cajun Chicken Pasta
Applebee's Garlic Mashed Potatoes Copycat
Olive Garden Eggplant Parmigiana Copycat
Red Lobster Parrot Isle Jumbo Coconut Shrimp Copycat
McDonald's Big Mac Copycat
Copycat Chipotle Barbacoa
TGI Friday's Loaded Potato Skins Copycat
DESSERT
Copycat McDonald's Shamrock Shake
The Cheesecake Factory Original Cheesecake Copycat
Copycat Chili's Molten Lava Chocolate Cake
Copycat Disney Dole Whip
Texas Cinnamon Butter Copycat
Copycat DoubleTree Chocolate Chip Cookies
Copycat Starbucks Chocolate Chunk Cookies
Copycat Red Lobster Cheddar Bay Biscuits
Copycat Panera Chocolate Chip Cookies
Cheesecake Factory Ultimate Red Velvet Cake Cheesecake Copycat
Little Debbie Oatmeal Creme Pies Copycat
Olive Garden's Tiramisu Copycat
Mrs. Fields Chocolate Chip Cookies
McDonald's Fried Apple Pie Copycat
Cheesecake Factory Chocolate Chip Cookie Dough Cheesecake Copycat
Copycat Twix Candy Bar
Copycat Dairy Queen Ice Cream Cake
Cracker Barrel's Baked Apple Dumplin Copycat
Cheesecake Factory Reese's Peanut Butter Chocolate Cake Cheesecake Copycat
Cheesecake Factory Caramel Pecan Turtle Cheesecake Copycat
Copycat Bakers Square Apple Pie
Applebee's Maple Butter Blondie Copycat
Starbucks Cranberry Bliss Bars Copycat
Reese's Peanut Butter Cups Copycat
Baskin Robbins Chocolate Ice Cream Copycat
SIGNATURE COCKTAILS AND DRINKS
Chick-fil-A's Frozen Lemonade Copycat
Starbucks' Hazelnut Frappuccino Copycat
Dunkin Donut's Mint Hot Chocolate Copycat
Tim Horton's Hot Apple Cider Copycat
New Orleans' Famous Hurricanes Copycat
McDonald's Shamrock Shake Copycat
Ruby Tuesday's Raspberry Iced Tea Copycat
Mike's Hard Lemonade Copycat
Copycat Smoothie King's Caribbean Way
Chick-Fil-A's Frosted Lemonade Copycat
Crystal Light's Berry Sangria Mix Copycat
Download Copycat Recipes PDF
Related More Books