| | |
| --- | --- |
| Book Name: | Modern garde manger PDF |
| Category: | Cooking Books |
| Language: | English |
| Format: | PDF |
| Free Download: | Available |
Free Download Modern garde manger PDF Book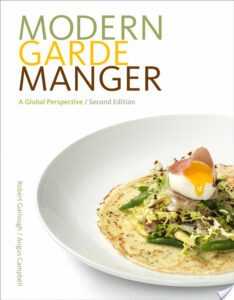 Book Descrription: 
The second edition of MODERN GARDE MANGER: A GLOBAL PERSPECTIVE was written for working chefs and serious students who want to learn about and practise cooking. Winner of the International Association of Culinary Professionals (IACP) Cookbook Award for the first edition. Its well-researched facts and tried-and-true recipes cover the whole world of the modern garde manger station. The knowledge and responsibilities of a chef are covered in four sections and twenty chapters. This second edition has been rearranged to make moving from one subject and set of skills easier to the next. Some unique features include chapter Goals, Professional Profiles, Ask the Expert, People, Places and Things, Review Questions, Activities and Applications, and Key Words in Review. The text discusses molecular cooking and shows how garde manger chefs use creative tools. There are more than 800 four-color photographs, of which more than 300 are new. There are many finished plates, platters, showpieces, step-by-step instructions, and many more recipes and more information on food show competition, buffet table layouts, ice sculpting techniques, and more. Modern Garde Manger 2e still has recipes and techniques from all over the world, but this edition also has more traditional American recipes and techniques. MODERN GARDE MANGER 2E is the most complete book that students and working chefs can get today.
Table of contents :
Dedication.
About the Authors.
Foreword.
Preface.
Acknowledgements.
Part I: FOUNDATIONS IN GARDE MANGER.
1. Introduction to Garde Manger.
2. Measurements and Equipment.
3. Modern Techniques in Kitchen Chemistry.
4. The Garde Manger's Pantry.
5. Cold Sauces, Dips, Soups, and Beverages.
6. Pasta, Dumplings, and Dough Accompaniments.
Part II: PREPARATION SKILLS OF THE GARDE MANGER.
7. Appetizers.
8. Salads and Dressings.
9. Sandwiches.
10. Raw Proteins.
Part III: FABRICATION SKILLS OF THE GARDE MANGER.
11. Fish and Shellfish.
12. Poultry and Game Birds.
13. Meats.
14. Specialty Meats.
15. Game Meats.
16. Curing, Smoking, Barbecue and Salumi.
Part IV: DISPLAYED ARTS OF THE GARDE MANGER.
17. Pates, Terrines, and Mousselines.
18. Cheese Preparation and Presentation.
19. Food Sculpting, Carving, and Modeling.
20. Food Decoration, Platter and Buffet Presentation.
Appendix A: Weights and Measurements.
Appendix B: Canned Goods.
Glossary.
References.
Recipe Index.
Subject Index.
Download Modern garde manger PDF 
Author(s): Campbell, Angus; Garlough, Robert
Publisher: Delmar, Cengage Learning, Year: 2012
ISBN: 9781111307615
Related More Books