| | |
| --- | --- |
| Book Name: | The X-15 Rocket Plane: Flying the First Wings Into Space |
| Category: | Aerospace Engineering |
| Free Download: | Available |
The X-15 Rocket Plane: Flying the First Wings Into Space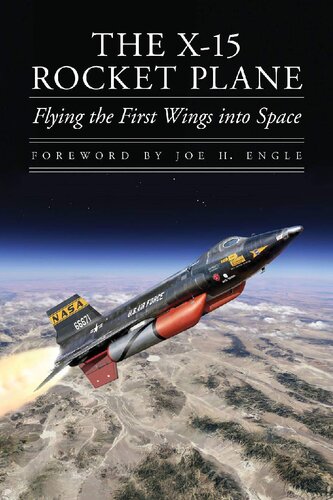 Table of contents :
Foreword
Introduction
Chapter 1: The Whole Nine Yards
Chapter 2: A Record High
Chapter 3: Gaining Speed
Chapter 4: Naval Engagement
Chapter 5: Changing Course
Chapter 6: Straight And Steady
Chapter 7: Skipping Out
Chapter 8: On A Roll
Chapter 9: Inconel Meets Celluloid
Chapter 10: Fastest Man Alive
Chapter 11: Chasing Experiments
Chapter 12: In The Line Of Duty
Chapter 13: Snow At Edwards
Afterword
lossary
Sources
Book Description:
With the Soviet Union launching the first Sputnik satellite in 1957, the Cold War soared to new heights as Americans feared losing the race into space. The X-15 Rocket Plane tells the enthralling yet little-known story of the hypersonic X-15, the winged rocket ship that met this challenge and opened the way to human-controlled spaceflight. Drawing on interviews with those who were there, Michael Evans captures the drama and excitement of rocket science: how to handle the heat generated at speeds up to Mach 7, how to make a rocket propulsion system that could throttle, and how to safely reenter the atmosphere from space and make a precision landing. This book puts a human face on the feats of science and engineering that went into the X-15 program, many of them critical to the development of the Space Shuttle. And finally, it introduces us to the largely unsung pilots of the X-15. By the time of the Apollo 11 moon landing, thirty-one American astronauts had flown into space — eight of them astronaut pilots of the X-15. The X-15 Rocket Plane restores these pioneers and the others who made it happen to their rightful place in the history of spaceflight.
The X-15 Rocket Plane: Flying the First Wings Into Space PDF
Author(s): Michael Evans
Publisher: University of Nebraska Press, Year: 2013
Related More Books