| | |
| --- | --- |
| Book Name: | The Matter of Death: Space, Place and Materiality |
| Category: | Aerospace Engineering |
| Free Download: | Available |
The Matter of Death: Space, Place and Materiality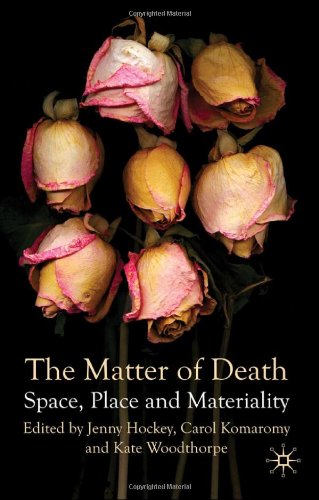 Table of contents :
Cover……Page 1
Contents……Page 8
List of Figures and Table……Page 10
Biographical Information……Page 12
Preface……Page 16
1 Materialising Absence……Page 18
2 Never Say Die: CPR in Hospital Space……Page 36
3 Making Hospice Space……Page 52
4 Dying Spaces in Dying Places……Page 69
5 The Materialities of Absence after Stillbirth: Historical Perspectives……Page 86
6 Distributed Personhood and the Transformation of Agency: An Anthropological Perspective on Inquests……Page 102
7 Behind Closed Doors? Corpses and Mourners in English and American Funeral Premises……Page 117
8 Private Grief in Public Spaces: Interpreting Memorialisation in the Contemporary Cemetery……Page 134
9 Wandering Lines and Cul-de-sacs: Trajectories of Ashes in the United Kingdom……Page 150
10 Natural Burial: The De-materialising of Death?……Page 165
11 What Will the Neighbours Say? Reactions to Field and Garden Burial……Page 182
12 Memorialising the Suicide Victim: 'Walking the Walk'……Page 195
13 Potent Reminders: An Examination of Responses to Roadside Memorials in Ireland……Page 212
14 Geographies of the Spirit World……Page 225
15 Recovering Presence……Page 240
Bibliography……Page 252
Index……Page 271
Book Description:
This collection opens up spaces where lives end, bodies are disposed of, and memories are generated: hospitals, hospices, care homes, coroners' courts, funeral premises, cemeteries, roadsides, and the spirit world. Using material culture studies, illuminates the ways human beings make meaningful the challenges of death, dying, and grief.
The Matter of Death: Space, Place and Materiality
Author(s): Jenny Hockey, Kate Woodthorpe, Carol Komaromy
Publisher: Palgrave Macmillan, Year: 2010
ISBN: 9780230224162
Related More Books