| | |
| --- | --- |
| Book Name: | [PDF] Underground engineering Book |
| Author: | Bai Yun |
| Category: | Civil Engineering Books |
| Language: | English |
| Format: | PDF |
| Free Download: | Available |
Free Download Underground engineering PDF Book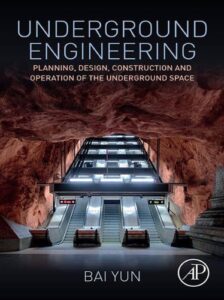 BOOK PREFACE
Sustainable development involves meeting the needs of the present without compromising the ability of future generations to meet their own needs. To achieve the goal, human beings must further use underground spaces to deal with the rapid increase of population, and expansion of urbanization, in addition to the effects of climate changes, to ensure resilience against natural disasters, preserve the environment, etc.
Underground engineering is an old subject. In fact, it originated when people lived in caves, scratched into rock or stiff clay, and dug the first underground structures. However, underground engineering is also a new technology, and its theories and methods are still developing. Today, underground construction involves different costs, ground conditions, cultural aspects, religious beliefs, as well and local and national political influences. From this point of view, underground engineering can also be considered a discipline of art. Even in the 21st century, almost every underground project is a journey into the unknown, as only about 0.1% of the ground is known before construction.
The 21st century is the century of underground engineering, and many cities in the world are excavating for subways, underground roads, utilities, water projects, sewage treatments, underground storage, underground plants, and other kinds of different underground facilities. For example, more than 100 km of the metro tunnel was driven in Shanghai in 2015 alone. However, until now, there have been few universities in the world teaching underground engineering. Today, Tongji University provides underground engineering courses for undergraduate students in the school of civil engineering. Also, it provides English language teaching for underground engineering, a need for this text will fill. Although this book is a useful textbook for undergraduate students, it is also a technical reference for young engineers engaged in underground engineering worldwide.
Along with the development of underground engineering, the Muir Wood "spirit" can be understood as follows:
"Innovation in tunneling is key to economy and safety." Above all; successful tunneling depends on the management of the uncertainty of the ground and how it can affect a specific project. The success of the tunneling scheme thus depends greatly on the engineer's competence, including the ability to understand the owner's interests and the limitations and advantages of existing construction techniques. Engineering economy and efficiency free the contractor from needing to determine risks and understanding "reference conditions" that determine physical features and, thus, potential contractor liabilities. The secret of success in tunneling recognizes the ubiquity of uncertainty in underground spaces. This uncertainty requires a management strategy specific to the project to minimize risk.
ACKNOWLEDGMENTS
The manuscript has been edited by Ms. Allisa Zhao, Mrs. Nicola MinnaFung, and Miss. Jasmine, Miss. Diana Margarita Diaz, and Mr. Zhou Chen. Their comments were constructive.
The author also appreciates the following students for their editing work:
Chapter 1: Mr. Xu Xiaofei and Mr. Xiao Li;
Chapters 2 and 3: Miss Zhao Bingyu;
Chapter 4: Miss PengJiamei, Mr. Lu Honghao, and Mr. Zhang Xuehui;
Chapter 5: Miss Li Yanxiang and Miss Wu Xiaoxiao;
Chapter 6: Mr. Lu Honghao;
General layout: Mr. Lu Honghao and Miss PengJiamei.
BRIEF INTRODUCTION
This book offers an overview of the field of underground engineering. After presenting the history of subsurface development and highlighting the goals for building underground structures, the design and planning processes are discussed in detail. Numerous tunnel construction techniques and project management models are also covered. Lastly, operation systems disaster risks and protection measures are discussed to ensure project owners and managers are prepared for events that may jeopardize a tunnel project.
Dedicated to those new to underground engineering, this text aims to equip readers with a solid understanding of the field. In addition to giving an overview of underground engineering, this resource provides valuable examples and case studies to facilitate an understanding of practical aspects of subsurface structures and their design.
Current and innovative techniques and future trends are also discussed throughout to provide readers with the current state of the art. Each chapter concludes with recommendations on existing literature for readers that want to deepen their knowledge.
Download Underground engineering: planning, design, construction, and operation of the underground space PDF 
Publisher: Academic Press is an imprint of Elsevier, Year: 2019
ISBN: 9780128127025, 0128127023
Related More Books