| | |
| --- | --- |
| Book Name: | Net Zero Energy Buildings |
| Category: | Civil Engineering Books |
| Language: | English |
| Format: | PDF |
| Free Download: | Available |
Free Download Net Zero Energy Buildings Book Epub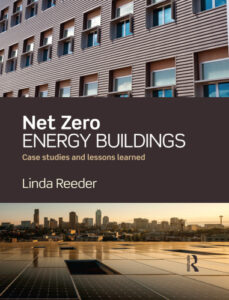 Book Description:
This book has 18 in-depth case studies of low-energy buildings that produce as much energy as they use in a year. These buildings are called "net zero energy buildings," and they come in all shapes, sizes, and climate zones in the U.S. Each case study talks about the goals of the owner, the design and construction process, the design strategies, the activities and results of measuring and verifying, and the costs of the project.
Each case study answers the following questions using post-occupancy performance data and other project information, as well as lessons learned by project owners and developers, architects, engineers, energy modelers, builders, and operators.
How hard was reaching net zero energy performance, and how were these problems solved? How would the people involved in a project handle these problems in the future?
Are the people who live there happy with the building? Does it feel good to them? Is it simple to use?
How can the lessons learned on each project help other projects?
If the owners, designers, and builders knew what they know now, what would they do differently?
In the last chapter, the challenges of designing, building, and owning a net-zero energy building are broken down into steps to take and things to avoid.
By giving a lot of similar information, this book will shorten the time it takes to learn how to design, build, and own this new type of building. It will also make architectural design and construction more effective.
Download Net Zero Energy Buildings: Case Studies and Lessons Learned Free 
Author(s): Linda Reeder
Publisher: Routledge, Year: 2016
ISBN: 1138781231,9781138781238
Net Zero Energy Buildings: International projects of carbon neutrality in buildings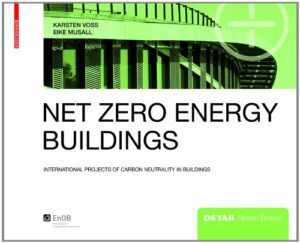 "Net zero energy buildings, equilibrium buildings, or carbon neutral cities – depending on location and the reasons for making the calculation, the numbers are run differently. The variety of terms in use indicates that a scientific method is still lacking – which is a problem not just regarding international communication but also concerning planning processes as a response to energy challenges. Clarifying and meaning the most important terms are essential for their implementation. Since October 2008, a panel of experts from an international energy agency has concerned itself with these topics as part of a project entitled "Towards Net Zero Energy Solar Buildings." The objective is to analyze exemplary buildings near a zero-energy balance to develop methods and tools for planning, designing, and operating such buildings. The results are documented in this publication: In addition to the presentation of selected projects, it is not just architectural showcase projects that are shown – the focus is on relaying knowledge and experience gained by planners and builders. Even if many questions remain unanswered: Project examples that have already been implemented prove on a practical basis that the objective of a zero energy balance is already possible today."
Download Net Zero Energy Buildings: International projects of carbon neutrality in buildings PDF 
Author(s): Karsten Voss, Eike Musall
Publisher: Detail Green Books, Year: 2013
ISBN: 3920034805, 9783920034805
Related More Books