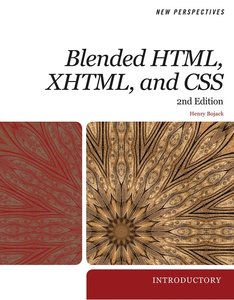 New Perspectives Series: Blended HTML, XHTML, and CSS Web Design
Blended HTML, XHTML, and CSS
Book Description:
The book is a good resource for those that are looking for a
step by step process on how to build a web page. The book takes
you through scenarios on using different tags, modification of
attributes and beautification of a web page.
NEW PERSPECTIVES ON BLENDED HTML, XHTML, AND CSS provides you
with beginning Web programming skills with in-depth coverage of
CSS and its use with HTML and XHTML. With the New Perspectives
proven pedagogy, you will think critically and understand WHY
you're learning WHAT you're learning.
New Perspectives on Blended HTML, XHTML, and CSS: 2nd Edition – Introductory (New Perspectives (Course Technology Paperback))
Author(s): Henry Bojack
Publisher: Course Technology
Year: 2009
ISBN: 0538746335