| | |
| --- | --- |
| Book Name: | [PDF] Biological Safety Principles and Practices by Fleming and Hunt |
| Language: | English |
| Format: | PDF |
| Free Download: | Available |
Biological Safety Principles and Practices, 4th Edition by Fleming and Hunt :: THIS FOURTH EDITION OF THE ASM BOOK BIOSAFETY: PRINCIPLES AND PRACTICES consists of 33 chapters from over 50 authors with many decades of experience in biological safety. We especially appreciate the additional effort of seven of these authors who also served as Section Editors. Fifteen new authors provide fresh insight on biological toxins, packaging and shipping, biological safety program management, Occupational Medicine in a biomedical research setting, safety considerations in the BSL-4 maximum containment laboratory, and special considerations for agriculture pathogens. All of the other chapters have been appropriately updated. For example, the prion chapter underwent major changes to address the transmission of variant Creutzfeldt-Jakob disease via blood transfusion, which occurred since the previous edition. Of special significance are chapter 4, "Epidemiology of Laboratory-Associated Infections," and chapter 7, "Protozoa and Helminths," both of which contain previously unreported cases and reviews of previous surveys.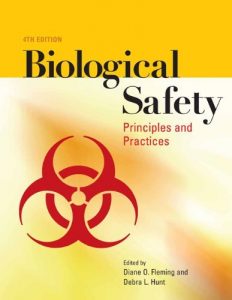 Biological Safety Principles and Practices, 4th Edition by Fleming and Hunt
Title:
Biological Safety Principles and Practices
Editor:
Diane O. Fleming,
Debra L. Hunt
Edition:
4th
Publisher:
ASM Press
Length:
642 pages
Size:
6.47 MB
Language:
English
Biological Safety: Principles and Practices PDF
Author(s): Diane O. Fleming, Debra L. Hunt
Series: Biological Safety: Principles & Practices
Publisher: ASM Press, Year: 2006
ISBN: 1-55581-339-9
Related More Books