| | |
| --- | --- |
| Book Name: | Network Security Tools: Writing, Hacking, and Modifying Security Tools |
| Category: | Information Security |
| Free Download: | Available |
Network Security Tools: Writing, Hacking, and Modifying Security Tools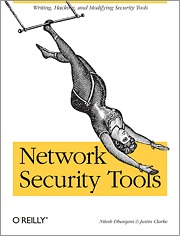 Book Description
If you're an advanced security professional, then you know that the battle to protect online privacy continues to rage on. Security chat rooms, especially, are resounding with calls for vendors to take more responsibility to release more secure products. In fact, with all the information and code that is passed daily, it's a fight that may never end. Fortunately, several open-source security tools give you a leg up in the battle.
Often a security tool does exactly what you want, right out of the box. More frequently, it would help if you customized the device to fit the needs of your network structure. Network Security Tools shows experienced administrators how to modify, customize, and extend popular open source security tools such as Nikto, Ettercap, and Nessus.
This concise, high-end guide discusses the common customizations and extensions for these tools, then shows you how to write even more specialized attack and penetration reviews that are suited to your unique network environment. It also explains how devices like port scanners, packet injectors, network sniffers, and web assessment tools function.
About the Authors
Nitesh Dhanjani is a well-known security researcher, author, and speaker. Dhanjani is currently a Senior Manager at a large consulting firm where he advises some of the largest corporations around the world on how to establish enterprise comprehensive information security programs and solutions. Dhanjani is also responsible for evangelizing brand new technology service lines around emerging technologies and trends such as cloud computing and virtualization.
Justin Clarke is a Director with Gotham Digital Science, based in the United Kingdom. He has many years of experience in testing the security of networks, web applications, and wireless networks for large financial, retail, and technology clients in the United States, the United Kingdom, and New Zealand.
Related More Books