Home
Tags
Estimating and costing in civil engineering dutta pdf
Tag: estimating and costing in civil engineering dutta pdf
Estimating and Costing in Civil Engineering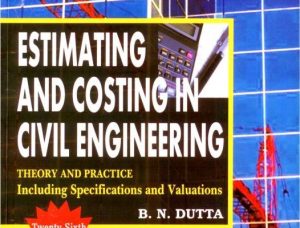 Estimating and Costing in Civil Engineering Book By B. N. Dutta
Estimating and Costing in Civil Engineering 24th Edition PDF download is an engineering manual written by S. Dutta. This book focuses on an extremely important aspect of civil engineering which is cost estimation.
Every project needs resources and capital. Before a project is started, it is important to determine what will be the total cost on the project. The cost of various factors is calculated to come to a total estimate.
Although the cost could exceed this estimate or be lesser than it, still an estimate gives you a vague idea of the capital that you must have in order to reach completion of a project. Estimating and Costing
in Civil Engineering 24th Edition pdf download deals with all these factors and aspects ofengineering.
Book Contents
Chapter 1- Procedure of estimating
Chapter 2- Method of building estimates
Chapter 3- Estimate of buildings
Chapter 4- Estimate of different types of roofs
Chapter 5- R.C.C works and structures
Chapter 6- Sanitary and water supply works
Chapter 7- Road estimating
Chapter 8- Culverts, Bridges, Wells
Chapter 9- Irrigations
Chapter 10- Types of estimates, sanction, project, etc
Chapter 11- Analysis of rates
Chapter 12- Estimating of quantities of materials and transport
Chapter 13- Specifications
Chapter 14- Rules and methods of measurement of works and taking out quantities
Chapter 15- Valuations
Chapter 16- Reports, Technical and Design data
Chapter 17- P.W.D accounts and procedure of works
Chapter 18- Planning of building and colony
Chapter 19- Village housing
Chapter 20- Schedule of rates matric and F.P system
Appendix
estimating and costing in civil engineering dutta pdf
Estimating and Costing in Civil Engineering B. N. Dutta PDF