Home
Tags
ATT Training Book Download
Tag: ATT Training Book Download
Automotive Technician Training Book PDF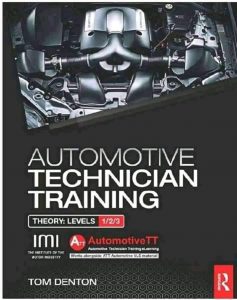 Automotive Technician Training: Theory Book
Book Pages: 560
This textbook covers all the theory and technology sections that students need to learn in order to pass level 1, 2 and 3 automotive courses from the Institute of Motor Industry, City & Guilds and other exam boards. It has been produced in partnership with ATT Training and is a companion to their online learning resources.
Learning is made more enjoyable and effective as the topics in the book are supported with online activities, video footage, assessments and further reading. If you are using ATT Training materials then this is the ideal textbook for your course.
This Level 1 : Chapter Practical Worksheets — Level 1 — chapter Engines — chapter Chassis — chapter Transmission — chapter Electrical.
This Level 2 : Student Worksheets book contains tasks that help you develop practical skills and prepare you for assessment. The tasks also reinforce the automotive theory that you will learn online and in the classroom. Each worksheet covers individual topics in a step-by-step manner, detailing how to carry out all of the most important tasks contained within the syllabus. Alongside each of these worksheets is a job card that can be filled in and used as evidence towards your qualification.
Endorsed by the Institute of the Motor Industry for all of their Level 2 automotive courses. Step-by-step guides to the practical tasks required at all Level 2 qualifications. Job sheets for students to complete and feedback sheets for assessors to complete.
ATT Training Book PDF
Automotive technician training PDF
Author(s): Denton, Tom
Publisher: Routledge, Year: 2015
ISBN: 9781138852365
Automotive Technician Training: Practical Worksheets Level 2 PDF
Automotive technician training: practical worksheets level 1 PDF