| | |
| --- | --- |
| Book Name: | Wireless Mesh Networks for IoT and Smart Cities |
| Category: | Telecommunication Books |
| Free Download: | Available |
Free PDF Download Wireless Mesh Networks for IoT and Smart Cities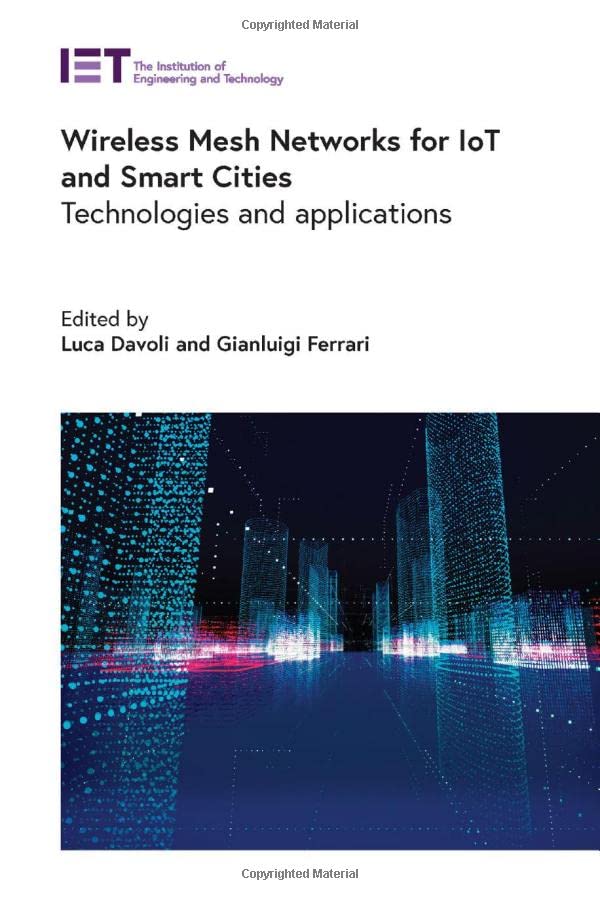 Book Description:
Wireless mesh networks (WMNs) are wireless communication networks organized in a mesh topology with radio capabilities. These networks can self-form and self-heal and are not restricted to a specific technology or communication protocol. They provide flexible yet reliable connectivity that cellular networks cannot deliver. Thanks to technological advances in machine learning, software-defined radio, UAV/UGV, big data, IoT, and smart cities, wireless mesh networks have found much-renewed interest for communication network applications.
This edited book covers state-of-the-art research innovations and future directions in this field. WMNs offer attractive communication solutions in difficult environments such as emergencies, battlefield surveillance, field operations, disaster recovery, tunnels, oil rigs, high-speed mobile-video applications on board transport, VoIP, and self-organizing internet access for communities. The main topics covered include BLL-based mesh networks, body sensor networks, seamless IoT mobile sensing through Wi-Fi mesh networking, software-defined radio for wireless mesh networks, UAV-to-ground multi-hop communication using backpressure and FlashLinQ-based algorithms, unmanned aerial vehicle relay networks, multimedia content delivery in wireless mesh networking, adaptive fuzzy agents in big data and multi-sensor environments and AI-aided resource sharing for WMNs.
This is a useful reference for ICT networking engineers, researchers, scientists, engineers, advanced students, and lecturers in both academia and industry working on wireless communications and WMNs. It is also relevant to developers, designers, and manufacturers of WMNs and wireless sensor networks (WSNs); and scientists and engineers working on applications of WNNs and WSNs.
About the Editors
Luca Davoli is a fixed-term assistant professor at the University of Parma, Italy.
Since January 2014, he has been a member of the Internet of Things (IoT) Laboratory
(https://iotlab.unipr.it) at the Department of Engineering and Architecture of the
University of Parma, Italy. His main research interests include Internet of Things,
software defined networking, big stream and peer-to-peer networks. He is an IEEE
and a GTTI member. He received his PhD in information technologies from the
Department of Information Engineering of the same university with a thesis entitled
"Architecture and Technologies for the Internet of Things".
Gianluigi Ferrari is an associate professor of telecommunications at the University
of Parma, Italy. Since September 2006 he has been the Coordinator of the Internet
of Things (IoT) Laboratory (http://iotlab.unipr.it/) and, since 2016, the co-founder,
president and CEO of things2i s.r.l. (http://www.things2i.com/), a spin-off company
of the University of Parma dedicated to IoT and smart systems. His research activities revolve around signal processing, communication/networking, and IoT. He has
published extensively in these areas and coordinated several technical projects,
including EU-funded competitive projects. He is a senior member of the IEEE. He
received his PhD in information technologies from the University of Parma, Italy.
Wireless Mesh Networks for IoT and Smart Cities: Technologies and applications PDF
Author(s): Luca Davoli, Gianluigi Ferrari
Series: IET Telecommunications Series, 101
Publisher: The Institution of Engineering and Technology, Year: 2022
ISBN: 1839532823,9781839532825
Related More Books