| | |
| --- | --- |
| Book Name: | Wearable Communication Systems and Antennas: Design, efficiency, and miniaturization techniques |
| Category: | Telecommunication Books |
| Free Download: | Available |
Wearable Communication Systems and Antennas: Design, efficiency, and miniaturization techniques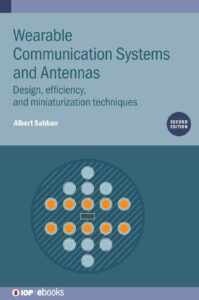 Book Description:
The main objective of this book is to present efficient wearable systems, compact sensors, and antennas for Communication and Healthcare Systems. The major application of wearable Body Area Networks (BANs) and Wireless Body Area Networks (WBANs), is to help physicians monitor their patients' health.
This book may serve students and design engineers as a reference book. It presents new designs in the area of wearable systems and antennas, metamaterial antennas, fractal antennas, and active receiving and transmitting antennas.
The new edition presents new wearable active and passive microstrip circular antennas, green electronic technologies, microwave measurements, ethical dilemmas, and considerations in the development of wearable devices.
Key Features
Each chapter covers mathematical detail and explanations to enable electrical, electromagnetic, communication, system, and biomedical engineers to follow and understand the topics presented
Presents electromagnetic theory, microwave theory, basic communication theory, and antennas theory and design
The book covers and presents basic topics in communication and system engineering
Includes new wearable systems and antennas design
Presents new wearable metamaterial antennas, green technologies and energy harvesting systems
The book presents wearable sensors and antennas for communication and IOT systems.
Wearable Communication Systems and Antennas: Design, efficiency, and miniaturization techniques PDF
Author(s): Albert Sabban
Publisher: IOP Publishing, Year: 2022
ISBN: 0750352205,9780750352208
Related More Books