| | |
| --- | --- |
| Book Name: | Trans: When Ideology Meets Reality |
| Category: | Politics Books |
| Language: | English |
| Format: | PDF |
| Free Download: | Available |
Free Download Trans: When Ideology Meets Reality Epub Free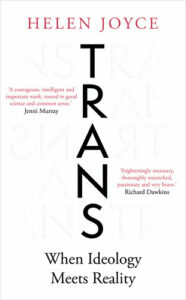 Book Description:
There's more to gender identity ideology than Twitter storms and using the right pronouns. In just ten years, self-declared gender identity has become more important than biological sex in-laws, company policies, school and university curricula, sports, medical protocols, and the media.
People are being shamed and silenced for trying to figure out what will happen if "man" and "woman" are changed. Even though people want to be kind to transgender people, this is stopping much-needed research into what our bodies mean, especially regarding women's rights, fairness in sports, same-sex attraction, and children's development.
We might be able to deal with what is at stake if we recommit to our liberal values of freedom of belief, freedom of speech, and robust debate.
Table of contents :
Introduction
1 The Danish Girls
2 Sissy Boys and the Woman Inside
3 My Name is Neo
4 Child, Interrupted
5 Miss Gendering
6 Back in the Box
7 She Who Must Not Be Named
8 We Just Need to Pee
9 Folding Like Deckchairs
10 Regardless of Sex
11 Behind the Scenes
12 Through the Looking Glass
13 They Can't Fire Us All
Conclusion
Acknowledgments
Further Reading
Download Trans: When Ideology Meets Reality Epub 
Author(s): Helen Joyce
Publisher: Oneworld Publications, Year: 2021
ISBN: 9780861540501
Related More Books