| | |
| --- | --- |
| Book Name: | Town Planning Into The 21st Century |
| Language: | English |
| Format: | PDF |
| Free Download: | Available |
Town Planning Into The 21 St Century by Andrew Blowers and Bob Evans | PDF Free Download. 
Book Details :
Language
English
Pages
200
Format
PDF
Size
672 KB
---
Town Planning Into The 21st Century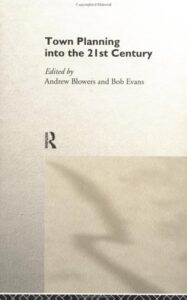 Town Planning Contents
---
From Town Planning To Environmental Planning

Sustainability: The New Challenge

Environmental Planning For Sustainable Development

Planning, Professionalism, and Sustainability

Planning In The Future Or Planning Of The Future?

Can Town Planning Be For People Rather Than Property?

 The View From London Centre

 Town Planning Into The 21st Century

Society And Sustainability
Preface to Town Planning Into The 21 St Century PDF
---
It is conventional to talk of recent history in terms of decades as if the 1970s were marked off from the 1980s, and the 1990s reflected a new set of changes.
This tendency is likely to be all the more pronounced as we enter a new millennium which offers the opportunity both for retrospective pronouncements on a supposedly passing era and for speculative analysis of the prospects for the unfolding years to come.
To an extent this periodicity masks the continuities of processes and the cycles of changes that are not so bound by the regular demarcation of time.
But, recognizing that any point in time may represent an ending, a beginning, and a continuing, the dawn of a new century (and especially a new millennium) is commonly accepted as a time to reflect on past, present and future.
This book is a reflection on planning as we enter the new millennium. For planning, such stock-taking is especially appropriate.
In the first place, planning is a practical activity assessing past trends, making projections, and setting out the constraints and opportunities for the future development of our environment. Beyond that, planning, in its broadest sense, is also about visions, the imagination of what the environment could (perhaps should) be like.
This vision, or social purpose of planning, has existed much longer than planned as a professional occupation or governmental activity.
Indeed, the first great visionary text of planning, Ebenezer Howard's Garden Cities of Tomorrow was published almost a century ago, coincidentally at the dawn of a new century.
It proved more than mere vision since some of its ideas were put into practice, demonstrating the fusion of vision and practice that has always been present (if often subdued) in planning.
These two faces of planning—the one as a regulatory, governmental, and 'professional' activity, the other as a purposive, ideological and analytical program—constitute the core of the debates in this book.
The shifting emphasis in planning practice over the last three decades or so is traced from its emphasis on comprehensive, strategic approaches founded on governmental intervention in the public interest, through a period where market interests became the dominating feature to a present period where public/private partnership is emphasized.
Paralleling and influencing these shifts have been changed in the techniques of planning, an earlier fascination with rationality, modeling, and systems giving way to a softer focus on planning as an enabling activity facilitating change, leading on to the contemporary concern with the wider issues of sustainability.
The fundamental purposes of planning, so strong in the post-war period, have been largely subdued during the past few decades as planning has retreated to a politically neutral (some might say, neutered) non-ideological role.
To an extent, planning may have found its purpose once again as sustainable development becomes the rhetorical by-word for policy-making across a range of government policies and in the private sector.
There remain very divergent views of what planning is or should be and they are reflected in this volume, written by some of the leading planning thinkers in Britain today.
Some of the chapters, those by Evans (ch. 1), Evans and Rydin (ch. 4) and Hall (ch. 7) reflect on what has happened in planning over these decades in terms of its practice, ideology, and achievement.
Other writers consider how planning should respond to the contemporary challenge of sustainable development. In this vein, Cowell and Owens (ch. 2) takes a pragmatic view of the impact of constraints on planning's prospects while Blowers (ch. 3) envisages a central role for planning within the wider realm of environmental management.
Two of the chapters, by Reade (ch. 5) and Colenutt (ch. 6), argue for planning to abandon its pretensions and urge a resurgence of its concern with social justice and community development.
The last two chapters consider British planning in its broadest context, in terms of international comparisons (Hague, ch. 8) and in terms of the relationship between society and the environment (Blowers, ch. 9).
As a whole, the book presents the debates about the role and purpose of planning as it goes into a new millennium, irrelevant as that milestone may prove to be.
Most of the chapters were originally presented at a conference organized by the Institute of British Geographers' Planning and Environment Research Group (PERG) held at South Bank University.
The editors would like to thank all the contributors for their co-operation and forbearance as successive drafts were undertaken.
Gratitude is also due to those who have supported the project in various ways, including the members of the PERG committee, and to Michele Marsh and Nicola Hallas who provided secretarial support.
The result may not change the planning world but it should cause us to think about it, and it is upon the thought that change ultimately rests.
Download Town Planning into the 21st Century PDF 
Author(s): Andrew Blowers
Year: 1998
ISBN: 0415105250,9780415105255
Download Town Planning Into The 21 St Century in PDF Format For Free. 
Related More Books
See More POST On : Engineering Books