| | |
| --- | --- |
| Book Name: | The Telecommunications Handbook |
| Category: | Telecommunication Books |
| Free Download: | Available |
Free PDF Download The Telecommunications Handbook Book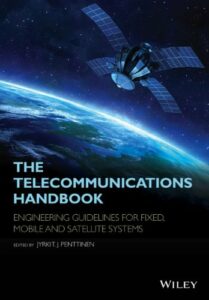 Book Description:
This practical handbook and reference provide a complete understanding of the telecommunications field supported by descriptions and case examples throughout
Taking a practical approach, The Telecommunications Handbook examines the principles and details of all of the major and modern telecommunications systems currently available to industry and to end-users. It gives essential information about usage, architectures, functioning, planning, construction, measurements, and optimization. The book's structure is modular, giving overall descriptions of the architectures and functionality of typical use cases, as well as deeper and practical guidelines for telecom professionals. The book focuses on current and future networks, and the most up-to-date functionalities of each network are described in sufficient detail for deployment purposes. The contents include an introduction to each technology, its evolution path, feasibility and utilization, solution and network architecture, and technical functioning of the systems (signaling, coding, different modes for channel delivery and security of core and radio system). The planning of the core and radio networks (system-specific field test measurement guidelines, hands-on network planning advice, and suggestions for the parameter adjustments) and future systems are also described. * Each chapter covers aspects individually for easy reference, including approaches such as functional blocks, protocol layers, hardware and software, planning, optimization, use cases, challenges, and solutions to potential problems * Provides convenient detail on the planning and operation of networks to enable readers to apply the content in real-world deployments * Bridges the gap between the communications in the academic context and the practical knowledge and skills needed to work in the telecommunications industry * Section divisions include: General theory; Fixed telecommunications; Mobile communications; Space communications; Other and special communications; and Planning and management of telecommunication networks * Covers new commercial and enhanced systems deployed, such as IPv6 based networks, LTE-Advanced and GALILEO
An essential reference for Technical personnel at telecom operators, equipment and terminal manufacturers, and Engineers working for network operators.
The Telecommunications Handbook: Engineering Guidelines for Fixed, Mobile and Satellite Systems PDF
Author(s): Jyrki T. J. Penttinen
Publisher: Wiley, Year: 2015
ISBN: 1119944880,9781119944881
Related More Books