| | |
| --- | --- |
| Book Name: | The Steadicam® Operator's Handbook |
| Author: | Jerry Holway, Laurie Hayball |
| Category: | Telecommunication Books |
| Language: | English |
| Format: | PDF |
| Free Download: | Available |
The Steadicam® Operator's Handbook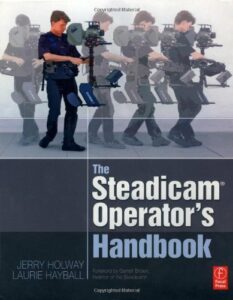 Book Description:
Camera operators and video enthusiasts worldwide search for the training and information they need to successfully use the Steadicam®, the most versatile tool for moving a motion picture or video camera. Every year, about 500 people in the world are lucky enough to take an intensive training workshop (some of the top workshops are taught by the authors of this book), but these workshops are expensive and sell out as a matter of course: the instructors can't keep up with the high demand. As a result, most people have no practical way to learn what has become a virtual camera operating skill. For the first time, THE STEADICAM® OPERATOR'S HANDBOOK illuminates all aspects of Steadicam operating in one comprehensive package. With over 1300 full-color photos, it's the comprehensive how-to and why-to book for the amateur, semi-pro, and professional.
Written by the premier Steadicam instructors worldwide, this book covers everything a cameraman needs to get started using a Steadicam rig and getting better. Both informational and inspirational, THE STEADICAM® OPERATOR'S HANDBOOK moves from the physics and balancing of a Steadicam, through a series of step-by-step line dances and practice shots, to the most personal aspects of filmmaking – how individual operators make creative and practical decisions using this unique camera setup. The book discusses the wide array of equipment and accessories currently available. It also illustrates the latest operating techniques and tricks, a variety of strategies for working with others, and the business side of a Steadicam career. Also included are observations and anecdotes – inspirational, funny, instructive, and cautionary – written by a number of other experienced Steadicam operators around the world, including the legendary inventor of the Steadicam himself, Garrett Brown. THE STEADICAM® OPERATOR'S HANDBOOK is both a master class and a master reference for all camera operators and directors who want to move the camera well.
Garrett Brown writes the foreword!
* Written by the premier Steadicam experts in the world * Offers the opportunity for novice camera operators to learn the skill sets needed to build and move forward in their careers * Lavishly illustrated in full color to show the various techniques, equipment, and line dances used by Steadicam operators * The techniques presented in this book apply to any Steadicam rig * Provides a comprehensive understanding of the skill sets to successfully operate a Steadicam, including techniques not even covered in official workshops.
The Steadicam® Operator's Handbook PDF
Author(s): Jerry Holway, Laurie Hayball
Publisher: Focal Press, Year: 2009
ISBN: 0240811658,9780240811659
Related More Books