| | |
| --- | --- |
| Book Name: | The Routledge Handbook of Planning Research Methods |
| Category: | Civil Engineering Books |
| Language: | English |
| Format: | PDF |
| Free Download: | Available |
Free Download The Routledge Handbook of Planning Research Methods PDF Book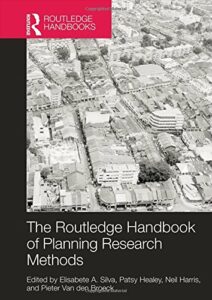 Book Description:
The Routledge Handbook of Planning Research Methods is a detailed look at the history, methods, and challenges of research design and research projects in modern urban planning. Through case studies, a group of researchers, planners, academics, and teachers from around the world who are all experts in the field talk about how they designed and carried out research projects in different ways and places. This book shows how to use quantitative and qualitative methods in projects and bring your research out of the classroom and into the real world.
The book is structured into sections focusing on
Beginning planning research
Research design and development
Rediscovering qualitative methods
New advances in quantitative methods
Turning research into action
The Routledge Handbook of Planning Research Methods is the most authoritative and complete handbook, with chapters written by leading scholars in spatial planning. It covers both well-known and new research methods in spatial planning. Students at the undergraduate and graduate levels, young professionals, and people who work in urban, regional, and spatial planning can learn a lot from this book.
Download The Routledge Handbook of Planning Research Methods PDF 
Author(s): Elisabete A. Silva, Patsy Healey, Neil Harris, Pieter Van den Broeck
Series: Rsm Career Handbooks
Publisher: Routledge, Year: 2014
ISBN: 0415727952,9780415727952
Related More Books