| | |
| --- | --- |
| Book Name: | [Epub] The Power of Broke Book |
| Category: | Business Books |
| Language: | English |
| Format: | PDF |
| Free Download: | Available |
Free Download The Power of Broke Epub Book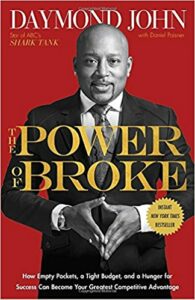 Book Description: 
This book by Shark Tank star and Fubu founder Daymond John explains why starting a business on a small budget can be the best way for an entrepreneur to stand out from the crowd.
Since he started selling t-shirts he made at home on the streets of Queens, Daymond John has been using the power of being broke. Daymond had to think outside the box with only $40 to promote his products. He was desperate, but luck was on his side because he devised an idea for a creative campaign that helped turn the FUBU brand into a $6 billion global phenomenon. But it might not have happened if he hadn't started broke, with anything but hope and a fierce drive to succeed by any means possible.
Here, the founder of FUBU and the star of ABC's Shark Tank show that being broke isn't bad for an entrepreneur. It can be your most significant competitive advantage. Why? Because if you don't have enough money to start a business, you have to think of ways to make money. It forces you to make better use of the resources you have. It forces you to be more accurate with your customers and develop more creative ways to sell your ideas. It moves you to be true to yourself, stay laser-focused on your goals and set the innovative solutions you need to leave a meaningful mark.
John uses his experiences as an entrepreneur and branding consultant, behind-the-scenes looks at the set of Shark Tank, and the stories of dozens of other entrepreneurs who have hustled their way to wealth to show how we can all use the power of being broke to achieve fantastic success.
You'll meet:
Steve Aoki is an electronic dance music (EDM) DJ who turned a series of $100 gigs into an international career that has changed how the music business works. Gigi Butler, a Nashville cleaning lady, built a cupcake empire with a family recipe, her maxed-out credit cards, and a lot of faith. Mo Bridges, who is only 11, was on Shark Tank. He used his grandma's sewing machine, a stash of loose fabric, and his style to make a successful clothing line.
When your back is against the wall, your bank account is empty, and all you have to work with are your creativity and passion, your only choice is to succeed. Here, you'll learn how to use the "Power of Broke" to get to the top by scraping, working hard, and dreaming.
Most-Read Book in New York
Download The Power of Broke: How Empty Pockets, a Tight Budget, and a Hunger for Success Can Become Your Greatest Competitive Advantage Book 
Author(s): Daymond John, Daniel Paisner
Publisher: Crown Business, Year: 2016
ISBN: 1101903597,9781101903599
Related More Books