| | |
| --- | --- |
| Book Name: | The Lord of the Rings: Weapons and Warfare |
| Category: | A Special Books |
| Free Download: | Available |
Download Free The Lord of the Rings: Weapons and Warfare PDF Book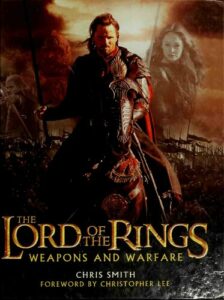 Book Description:
Lavishly illustrated with 1,000 photos, paintings, maps, sculptures, and sketches, most appearing here for the first time, Weapons and Warfare is an indispensable chronicle of The Lord of the Rings' many creatures, warriors, armies, and battlegrounds. From the graceful and proficient Elves to the horrendous war machines of the Dark Lord, each culture's approach to warfare is explained – how they fought, why they were fighting, what armor they wore and what weapons they used against their enemies. Now you can get as close to a marauding Orc as you wish without suffering the consequences!
Treating the filmmakers' notes, designs, and props as a valid archive, Weapons and Warfare describes in detail every major conflict depicted in the film trilogy – from The Last Alliance of Elves and Men to the climactic Battle of the Pelennor Fields – each accompanied by a battle diagram from the films' chief designers.
Armed with a wealth of fascinating facts and unique imagery, an exclusive foreword by Christopher Lee and an introduction by the Academy Award winner Richard Taylor, Weapons and Warfare promises to be the most striking companion to The Lord of the Rings movie trilogy published to date.
About the author
Chris Smith (1964) has been the Tolkien editor of HarperCollins since 1999. He edited several books about Peter Jackson's films by Gary Russell and Jude Fisher but is most famous for The Lord of the Rings: Weapons and Warfare, a book containing a lot of information about the weaponry used in Peter Jackson's films.
The Lord of the Rings: Weapons and Warfare PDF
Author(s): Chris Smith; Christopher Lee
Publisher: Mariner Books, Year: 2003
ISBN: 0618391002,9780618391004
Related More Books
See More POST On : A Special Books