| | |
| --- | --- |
| Book Name: | The Everyday Life of an Algorithm |
| Category: | Algorithms |
| Free Download: | Available |
The Everyday Life of an Algorithm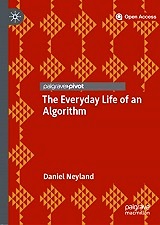 Book Description 
This open access book begins with an algorithm – a set of IF … THEN rules used to develop a new ethical video surveillance architecture for traffic hubs. Invite readers to follow the algorithm for three years, tracing its daily life.
Questions of ethics, transparency, accountability, and market value must be answered by the algorithm in a series of ever more demanding tests. The algorithm here must demonstrate its ability to be relevant to everyday life if it is to become a normal feature of the environment in which it is deployed.
By studying the everyday life of algorithms, the book opens a conversation with existing social science research that tends to focus on the strength and fuzziness of algorithms. In this book, we have unique access to the design, development, and testing of the algorithm, but we can also witness its fragility and dependence on others.
About the Author
Daniel Neyland is a Professor of Sociology at Goldsmiths, University of London, UK. His research focuses on issues of governance, accountability, and ethics in the forms of science, technology, and organizations. He has published books on privacy and surveillance, organizational ethnography, social governance, and more.
Related More Books