| | |
| --- | --- |
| Book Name: | [PDF] The Complete Guide to Copper and Fiber-Optic Networking |
| Category: | Electrical books ( EE ) |
| Free Download: | Available |
The Complete Guide to Copper and Fiber-Optic Networking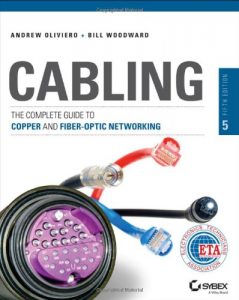 Download The Complete Guide to Copper and Fiber-Optic Networking 5th Eds.
Develop the skills you need to design and build a reliable, cost–effective cabling infrastructure Fully updated for the growing demand of fiber optics for large–scale communications networks and telecommunication standards, this new edition is organized into two parts. Part I covers LAN Networks and Cabling Systems offers comprehensive coverage on current cabling methodologies and is updated to the latest industry standards.
Table of Contents
Part I: LAN Networks and Cabling Systems
Chapter 1: Introduction to Data Cabling
Chapter 2: Cabling Specifications and Standards
Chapter 3: Choosing the Correct Cabling
Chapter 4: Cable System and Infrastructure Constraints
Chapter 5: Cabling System Components
Chapter 6: Tools of the Trade
Chapter 7: Copper Cable Media
Chapter 8: Fiber-Optic Media
Chapter 9: Wall Plates
Chapter 10: Connectors
Chapter 11: Network Equipment
Chapter 12: Wireless Networks
Chapter 13: Cabling System Design and Installation
Chapter 14: Cable Connector Installation
Chapter 15: Cable System Testing and Troubleshooting
Chapter 16: Creating a Request for Proposal
Chapter 17: Cabling @ Work: Experience from the Field
Part II: Fiber-Optic Cabling and Components
Chapter 18: History of Fiber Optics and Broadband Access
Chapter 19: Principles of Fiber-Optic Transmission
Chapter 20: Basic Principles of Light
Chapter 21: Optical Fiber Construction and Theory
Chapter 22: Optical Fiber Characteristics
Chapter 23: Safety
Chapter 24: Fiber-Optic Cables
Chapter 25: Splicing
Chapter 26: Connectors
Chapter 27: Fiber-Optic Light Sources and Transmitters
Chapter 28: Fiber-Optic Detectors and Receivers
Chapter 29: Passive Components and Multiplexers
Chapter 30: Passive Optical Networks
Chapter 31: Cable Installation and Hardware
Chapter 32: Fiber-Optic System Design Considerations
Chapter 33: Test Equipment and Link/Cable Testing
Chapter 34: Troubleshooting and Restoration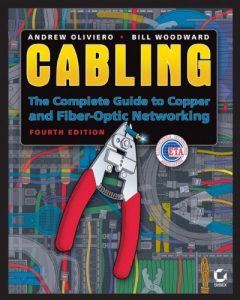 The Complete Guide to Copper and Fiber-Optic Networking 4th Eds.
Cabling: The Complete Guide to Copper and Fiber-Optic Networking, 5th Edition PDF
Author(s): Oliviero, Andrew;Woodward, Bill
Publisher: John Wiley & Sons, Year: 2014
ISBN: 9781118807323,9781118807347,9781118807385,1118807324
Related Results : cabling – the complete guide to copper and fiber-optic networking 4 edition.pdf,cabling the complete guide to copper and fiber optic networking fourth edition pdf,cabling the complete guide to copper and fiber-optic networking,cabling the complete guide to copper and fiber-optic networking 4th edition pdf,cabling the complete guide to copper and fiber-optic networking 5th editioncabling the complete guide to copper and fiber-optic networking 5th edition pdf,
Related More Books
See More POST On : Engineering Books