| | |
| --- | --- |
| Book Name: | The Children's Bible In 365 Stories |
| Author: | Mary Batchelor |
| Category: | Children's Books |
| Language: | English |
| Format: | PDF |
| Free Download: | Available |
Free Download The Children's Bible In 365 Stories PDF Book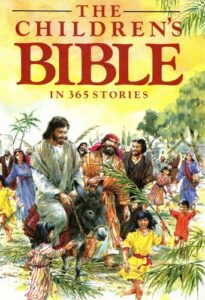 Book Description:
All the stories in this book—one for every day of the year—come from the Bible, like a whole library. The Children's Bible in 365 Stories contains sixty-six books of adventure, history, poetry, letters, and much more. The Bible shows us what God is and what we are like too. Because God never changes and human nature stays the same, the Bible is constantly updated.
Jesus showed us exactly what God is like. He won the fight against death and evil and returned to new and never-ending life. The Bible closes with a vision of our future when Jesus will reign forever and bring justice and peace to a new and happy world.
About the Author
Mary Batchelor is the author of The Lion Book of Children's Prayers and The Children's Bible in 365 Stories.
The Children's Bible In 365 Stories PDF
Publisher: Lion
ISBN: 0745913339
Related More Books