| | |
| --- | --- |
| Book Name: | The 3CX IP PBX Tutorial |
| Category: | Telecommunication Books |
| Free Download: | Available |
Free PDF Download The 3CX IP PBX Tutorial Book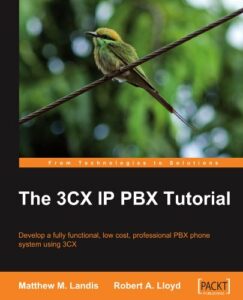 Book Description:
Develop a fully functional, low-cost, professional PBX phone system using 3CX
Implement a full-featured Windows-based phone system using 3CX
Connect successfully to the outside world using VoIP and PSTN lines
Configure, connect, and test extensions and master different ways of controlling calls in 3CX
Written by experienced 3CX consultants and filled with Tips and Tricks, as well as real-world examples
In Detail
Traditional PBX systems have often been expensive and proprietary. With 3CX, you can now create an easy-to-use, complete, and cost-effective phone system on Microsoft Windows. This practical guide offers the insight that a reader needs to exploit the potential that 3CX has to offer.
This practical hands-on book covers everything you need to know about designing, installing and customizing 3CX to create an all-inclusive phone system. It takes a real-world approach that walks you through all aspects of 3CX and its features. From installing the software to backing things up, to understanding what hardware you need – this book covers it all.
The 3CX IP PBX Tutorial will take you from knowing very little about VoIP to almost expert level with detailed how-tos on every aspect of 3CX. Starting with the basics, and covering the free version of 3CX as well as the more advanced features of the Enterprise version, you will learn it all.
In other words, this book covers numerous topics such as installation and configuration of 3CX, choosing a VoIP Provider, integration of a trunk into 3CX, the commonly used 3CX hardware, and backing up your phone system.
What you will learn from this book
Install and configure 3CX as per your hardware and operating system requirements
Configure, connect, and test software and hardware extensions that will help your implementation go smoother
Master various ways to control and handle calls in 3CX by setting up a ring group, digital receptionist, and call queues
Learn the need for a trunk and PSTN line; choose a VoIP Provider, and the equipment needed, and finally integrate a trunk into 3CX using the easy-to-use wizards.
Create custom music on hold, specific Outbound Rules, Promptsets, and Direct Dials, all of which give you more flexibility in professional and flexible phone systems
Connect 3CX to Microsoft Outlook, integrate 3CX with a free instant message server, and link a legacy PBX with 3CX
Get to grips with the commonly used 3CX hardware, such as an FXO gateway, a PRI gateway, and an ATA gateway.
Back up your phone system, learn your disaster recovery options, and plan in advance how to tackle failed phone lines.
Approach
A hands-on and practical tutorial that shows administrators how to implement and use 3CX and its range of functionality. Using real-world experiences from the authors, you will learn tricks and tips that will help you develop and optimize your 3CX system.
Who this book is written for
This book is for beginners who know nothing about 3CX or VoIP. It will guide them in setting up a complete system. Advanced users will also gain insight from information on real-world hardware and software tips and tricks.
The 3CX IP PBX Tutorial PDF
Author(s): Matthew M. Landis, Robert Lloyd
Publisher: Packt Publishing, Year: 2010
ISBN: 1847198961,9781847198969
Related More Books