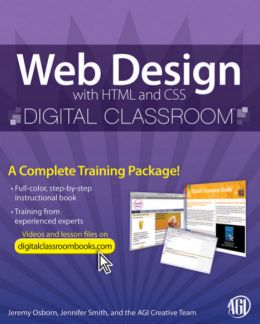 Web Design with HTML and CSS Digital Classroom
Author
Jennifer Smith and Jeremy Osborn
Isbn
978-0470583609
File size
24 Mb
Year
2011
Pages
440
Language
English
File format
PDF
Category
Web Development
Web Design with HTML and CSS Digital Classroom
Book Description:
This one book covers the entire subject in detail. It is
supplemented with practice lesson files online. Those who
choose to go through the whole book will end up with all of the
terminology and basic knowledge of those who have worked in it
for years. It is very well organized, loaded with great charts
and pictures and is a fairly easy read. It addresses browser
compatibility and designs for mobile devices. It even covers
how various techniques developed historically, since most of us
have tried various other programs. Our favorite "how-to" in
quite some time.
An invaluable full-color training package for Web designWeb design consists of using multiple software tools and codes-such as Dreamweaver, Flash, Silverlight, Illustrator, Photoshop, HTML, and CSS, among others-to craft a unique, robust, and interactive websites. This book teaches you how to effectively use all the major tools involved in web design to create a site that is both attractive and functional.You'll go beyond the basics to learn best practices of good web design so you can go from the drawing board to a successful site.Combining full-color, step-by-step instructions with lesson files and video training from web experts is like having your own personal instructor guiding you through each lesson-but you work at your own pace!Discusses properties of good web design and best practices for building a site that is both attractive and functionalOffers clear instruction that makes learning complicated tasks less intimidatingDemonstrates how to approach site design concept creation and bring a vision from the drawing board through to full and dazzling operabilityCombines a full color step-by-step instructional book along with lesson files and video training from web design expertsThis training package takes you beyond the basics in a series of easy-to-absorb, five-minute lessons.
Web Design Digital Classroom PDF
Author(s): Jeremy Osborn, AGI Creative Team, Jennifer Smith
Series: Digital Classroom 31
Publisher: John Wiley & Sons, Year: 2011
ISBN: 0470583606
Web Design Digital Classroom PDF