Refrigeration and Air Conditioning by GF Hundy :: Description :: Now in its fourth edition, this respected text delivers a comprehensive introduction to the principles and practice of refrigeration. Clear and straightforward, it is designed for students (NVQ/vocational level) and professional HVAC engineers, including those on short or CPD courses. Inexperienced readers are provided with a comprehensive introduction to the fundamentals of the technology. With its concise style yet broad sweep the book covers most of the applications professionals will encounter, enabling them to understand, specify, commission, use and maintain these systems. Many readers will appreciate the clarity with which the book covers the subject without swamping them with detailed technical or product specific information.
New material in this edition includes the latest developments in refrigerants and lubricants, together with updated information on compressors, heat exchangers, liquid chillers, electronic expansion valves, controls and cold storage. Topics also covered include efficiency, environmental impact, split systems, retail refrigeration (supermarket systems and cold rooms), industrial systems, fans, air infiltration and noise.
Refrigeration and Air Conditioning by GF Hundy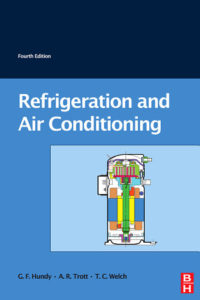 RAC Book by GF Hundy, AR Trott and TC Welch
Title of the book: Refrigeration and Air Conditioning
Authors: G. F. Hundy, A.R. Trott, T.C. Welch

Edition: 4th
Publishers: B H
Pages: 385
Chapters: 31
Files type: PDF
File size: 11.7 MB
Table of Contents:

Fundamentals of Refrigeration and AC; The refrigeration cycle; Refrigerants; Compressors; Oil in refrigerant circuits; Condensers and cooling towers; Evaporators; Expansion valves; Controls and other circuit components; Component selection and balancing; Installation and construction, Distributed cooling, thermal storage,; Packaged units; Food refrigeration and freezing; Cold storage; Food refrigeration – product by product; Refrigerated transport handling and distribution; Refrigeration load estimation; Industrial uses of refrigeration; Air and water vapour mixtures; Air treatment fundamentals; Practical air treatment cycles; Air-conditioning load estimation; Air movement; Air-conditioning methods; Dehumidifiers and air drying; Heat pumps, heat recovery; Control Systems; Commissioning and maintenance; Efficiency, running cost and carbon footprint; Noise.