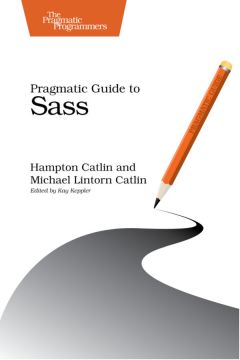 Pragmatic Guide to Sass
Author
Hampton Catlin and Michael Lintorn Catlin
Isbn
9781934356845
File size
2 Mb
Year
2011
Pages
100
Language
English
File format
PDF
Category
Web Development
Pragmatic Guide to Sass
Book Description:
CSS is fundamental to the web, but it's a basic language and
lacks many features. Sass is just like CSS, but with a whole
lot of extra power so you can get more done, more quickly.
Build better web pages today with Pragmatic Guide to
Sass. These concise, easy-to-digest tips and techniques are
the shortcuts experienced CSS developers need to start
developing in Sass today.
Make things even easier with Blueprint, and discover how to use
its predefined classes that you can apply to your Web site.
From selector scoping to bundling, debugging, and designing
custom functions, Pragmatic Guide to Sasswill help you
build the pages you've always wanted.
Pragmatic guide to Sass 3 : tame the modern style sheet PDF
Author(s): Catlin, Hampton; Catlin, Michael Lintorn
Series: Pragmatic programmers.
Publisher: The Pragmatic Bookshelf, Year: 2016
ISBN: 9781680501766