Home
Tags
Hvac fundamentals samuel c. sugarman
Tag: hvac fundamentals samuel c. sugarman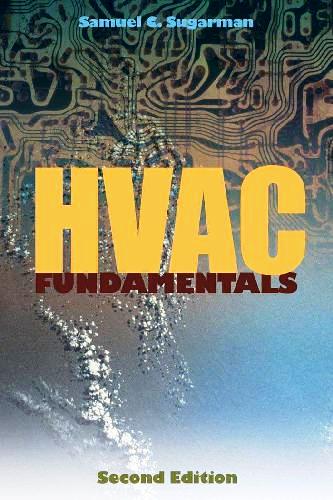 ---
Book Details :
Language
English
Pages
309
Format
PDF
Size
2.53 MB
---
HVAC Fundamentals by Samuel C. Sugarman
HVAC Fundamentals by Samuel C. Sugarman PDF Free Download.
HVAC Fundamentals Contents
---
Chapter 1 HVAC Systems

Chapter 2 Heat Flow

Chapter 3 Heating and Ventilating Systems 

Chapter 4 Air Conditioning Systems

Chapter 5 Compressors

Chapter 6 Water Chillers

Chapter 7 Fans

Chapter 8 Air Distribution

Chapter 9 Variable Air Volume

Chapter 10 Pumps and Water Distribution

Chapter 11 Control Systems

Chapter 12 Control System Components

Chapter 13 Choosing an HVAC System

Chapter 14 Heat Recovery

Chapter 15 Energy Conservation Opportunities

Chapter 16 Central Plant Water Chiller Optimization

Chapter 17 Fan Drives

Chapter 18 Terminology

Chapter 19 HVAC Timeline
Foreword to HVAC Fundamentals PDF
---
HVAC Fundamentals covers the full range of HVAC systems used in today's facilities. This is a comprehensive book providing the reader with a detailed description of how HVAC systems operate.
The HVAC systems are divided into components and controls for air, water, heating, ventilating, and air conditioning to clearly illustrate the way in which each system, subsystem, control, or component contributes to providing the desired indoor environment.
The reader will learn why one component or system may be chosen over another with respect to design, application, energy conservation, indoor air quality, and cost.
The book also covers heat flow fundamentals and the heat flow calculations used in selecting equipment and determining system operating performance and costs. Fluid flow fundamentals and equations, and fundamentals of system testing and verification of system performance are also covered in this book.
This gives the reader a complete picture of systems from conception to operation. The chapters are organized in a way that one builds upon another and systems, components, design, and application are revisited as the reader gains knowledge and insight about the workings of HVAC systems.
Acknowledgments
Writers do not write alone. I would like to acknowledge just a few of those colleagues, friends, and family who shared their support, ideas and guidance for this project. Bill Payne, my acquisitions editor, for his intellectual support and stimulating ideas.
My friend and HVAC contractor Mark Makie, who has discussed HVAC issues with me for 25 years. Technical Safety Services, Inc., headquartered in Berkeley, California, gave me an arena for developing concepts and materials and then the space for testing and teaching them.
My family and loved ones who watched me stare at my laptop computer for hours on end, for bringing me sustenance, their critiques, and then leaving me in relative solitude almost alone. And the most special thanks to WJ down by the sea, to whom this book is dedicated.
HVAC Fundamentals PDF
Author(s): Samuel C. Sugarman
Publisher: Fairmont Press, Year: 2007
ISBN: 9780881735598
Download HVAC Fundamentals by Samuel C. Sugarman PDF Free.