Home
Tags
Heat transfer applications in process engineering
Tag: heat transfer applications in process engineering
Heat Transfer Engineering Applications PDF book by Vyacheslav S. Vikhrenko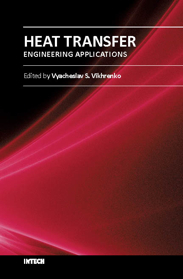 Heat transfer is involved in numerous industrial technologies. This interdisciplinary book comprises 16 chapters dealing with combined action of heat transfer and concomitant processes. Five chapters of its first section discuss heat effects due to laser, ion and plasma-solid interaction. In eight chapters of the second section engineering applications of heat conduction equations to the curing reaction kinetics in manufacturing process, their combination with mass transport or ohmic and dielectric losses, heat conduction in metallic porous media and power cables are considered. Analysis of the safety of mine hoist under influence of heat produced by mechanical friction, heat transfer in boilers and internal combustion engine chambers, management for ultrahigh strength steel manufacturing are described in this section as well. Three chapters of the last third section are devoted to air cooling of electronic devices.
Chapter 1  

Mathematical Models of Heat Flow in Edge-Emitting Semiconductor Lasers

Chapter 2  

Temperature Rise of Silicon Due to Absorption of Permeable Pulse Laser

Chapter 3  

Pulsed Laser Heating and Melting

Chapter 4  

Energy Transfer in Ion– and Laser–Solid Interactions

Chapter 5  

Temperature Measurement of a Surface Exposed to a Plasma Flux Generated Outside the Electrode Gap

Chapter 6  

Experimental and Numerical Evaluation of Thermal Performance of Steered Fibre Composite Laminates

Chapter 7  

A Prediction Model for Rubber Curing Process

Chapter 8  

Thermal Transport in Metallic Porous Media

Chapter 9  

Coupled Electrical and Thermal Analysis of Power Cables Using Finite Element Method

Chapter 10  

Heat Conduction for Helical and Periodical Contact in a Mine Hoist

Chapter 11  

Mathematical Modelling of Dynamics of Boiler Surfaces Heated Convectively

Chapter 12  

Unsteady Heat Conduction Phenomena in Internal Combustion Engine Chamber and Exhaust Manifold Surfaces

Chapter 13  

Ultrahigh Strength Steel: Development of Mechanical Properties Through Controlled Cooling

Chapter 14  

Air Cooling Module Applications to Consumer-Electronic Products

Chapter 15  

Design of Electronic Equipment Casings for Natural Air Cooling: Effects of Height and Size of Outlet Vent on Flow Resistance

Chapter 16  

Multi-Core CPU Air Cooling
Full Chapter Download Book as bellow.