Home
Tags
Fe civil review manual pdf
Tag: fe civil review manual pdf
FE Civil Review Manual Rapid Preparation for the Civil Fundamentals of Engineering Exam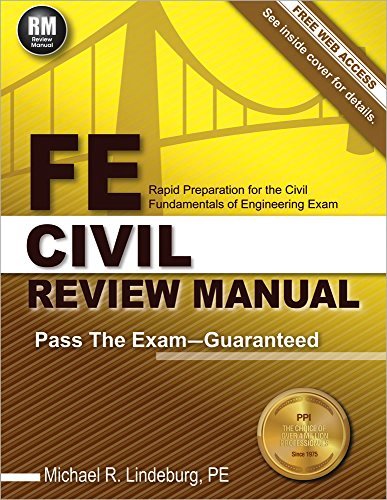 Book Description:
Michael R. Lindeburg PE's FE Civil Review Manual offers complete review for the FE Civil exam. This book is part of a comprehensive learning management system designed to help you pass the FE exam the first time.
FE Civil Review Manual (FECERM) features include:
equations, figures, and tables of the NCEES FE Reference Handbook to familiarize you with the reference you'll have on exam day
16 diagnostic exams to assess your grasp of knowledge areas covered in each chapter
concise explanations supported by exam-like example problems, with step-by-step solutions to reinforce the theory and application of fundamental concepts
30-day web access to the mobile version of the book for on-the-go review
access to a fully customizable study schedule to keep your studies on track
a robust index with thousands of terms to facilitate referencing
a guarantee that if you follow the guidelines described in the "How to Use This Book" section, you'll pass the exam or we will refund your purchase*
This book is a companion to the FE Civil Practice Problems (FECEPP)in chapter sequence, nomenclature, terminology, and methodology, so you can easily practice where you need more support.
Topics Covered
Computational Tools
Construction
Dynamics
Engineering Economics
Environmental Engineering
Ethics and Professional Practice
Fluid Mechanics
Geotechnical Engineering
Hydraulics and Hydrologic Systems
Materials
Mathematics
Mechanics of Materials
Probability and Statistics
Statics
Structural Analysis
Structural Design
Surveying
Transportation Engineering
FE Civil Review Manual Rapid Preparation for the Civil Fundamentals of Engineering Exam PDF
Author(s): Michael R. Lindeburg
Publisher: Professional Publications Inc., Year: 2014
ISBN: 9781591264392