Home
Tags
Design of machine elements machine design by r.s. khurmi
Tag: design of machine elements machine design by r.s. khurmi
Machine Design by RS Khurmi :: A Textbook Of Machine Design is useful for students preparing for entrance exams like UPSC Engineering Services exam, AMIE (India) examinations. It is also recommended for students studying BTech, BE, and other professional courses related to machine design. The book is systematic and is presented in clear and simple language. The syllabus of the book is in line with the course at NMIMS. It is good reference book for students of other colleges too. The book explains the life cycle of engineering design, with respect to machines beginning from identifying a problem, defining it in relatively simpler terms, considering the environment in which it operates, and finding a solution to solve problems or improvise methods.
It includes more than 30 chapters like Shafts, Levers, Chain Drives, Power Screws, Flywheel, Springs, Clutches, Brakes, Welding Joints, Pressure Vessels, Spur Gears, Internal Combustion Engine Parts, Bevel Gears, Pipes and Pipe Joints, Worms Gears, Columns and Struts, Riveted Joints, Keys and Coupling, and more.
S Chand Publishing is the publisher of A Textbook Of Machine Design, and it was published in 2005. This 25th revised edition book is available in paperback.
Machine Design by RS Khurmi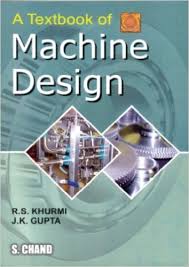 Key Features:
This is a multi-coloured edition with pictures, illustrations, diagrams, and graphics to support the concepts explained.
About The Authors
J K Gupta and R S Khurmi have authored the book. Dr R S Khurmi worked as a professor in Delhi University, and now he writes books on engineering. J K Gupta is also a technical writer, and writes mostly in collaboration with R S Khurmi. They have their individual authored books as well like Strength Of Material, Life And Work Of Ramesh Chunder Dutta C.I.E, and History Of Sirsa Town.
Some of the books that have been authored by both of them are Refrigeration Tables With Chart, Textbook Of Refrigeration And Airconditioning (M.E.) , Civil Engineering: Conventional And Objective Type, and Mechanical Engineering (Conventional And Objective Type): Conventional And Objective Types.
Currently third party Downloading link (not uploaded by freepdfbook.com) removed due to copyright infringement material, Our site does not support to share this of material.
Original Link of Material :
https://www.schandpublishing.com/books/tech-professional/mechanical-engineering/a-textbook-machine-design/9788121925372/
Support to Author by Buying Paperbook from link given below…
PaperBook: A Textbook of Machine Design
See More Popular Mechanical Books also –
Theory Of Machine By RS Khurmi PDF 
Machine Design By RS Khurmi PDF 
Fluid Mechanics By RK Bansal PDF 
Power Plant Engineering By RK Rajput PDF 
Heat And Mass Transfer By RK Rajput PDF
Refrigeration And Air Conditioning By RS Khurmi PDF
Thermal Engineering By RK Rajput PDF
Engineering Mechanics By RS Khurmi PDF  
Internal Combustion Engine by R K Rajput PDF
Operations Research S Chand PDF 
Strength of Material by RK Bansal PDF 
Theory of Machines By SS Rattan PDF 
Mechanical Engineering Objective Questions And Answers PDF Free Download
Machine Design by R.S.Khurmi PDF