Home
Tags
CNC Control Setup for Milling and Turning Mastering CNC Control Systems
Tag: CNC Control Setup for Milling and Turning Mastering CNC Control Systems
CNC Control Setup for Milling and Turning Mastering CNC Control Systems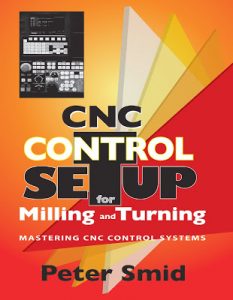 CNC Control Setup for Milling and Turning Mastering CNC Control Systems By Peter Smid
Book Description:
No other book covers CNC control setup in such practical detail. This unique reference from the author of the best-selling CNC Programming Handbook features nearly all of the activities a typical CNC operator performs on a daily basis. Starting with overall descriptions and in-depth explanations of various features, it goes much further and is sure to be a valuable resource for anyone involved in CNC.
Describes working with all types of offsets for milling and turning applications, interpretation of part programs, applying trial cuts, making program changes, and much more.
Places emphasis on troubleshooting many common problems that occur in CNC operations.
Presents suggested methods of correction, along with methods of prevention.
Book Content :
CONCEPTS OF CNC MACHINING
CNC MACHINE SPECIFICATIONS.
PROGRAM INTERPRETATION
CONTROL SYSTEM
OPERATION PANEL
SETUP HANDLE.
MILLING TOOLS – SETUP
SETTING PART ZERO
WORK OFFSET SETTINGS.
TOOL LENGTH OFFSET.
MACHINING A PART
MACHINING HOLES
OFFSET CHANGE BY PROGRAM.
SYSTEM PARAMETERS.
PROGRAM OPTIMIZATION
CNC control setup for milling and turning : mastering CNC control systems PDF
Author(s): Peter Smid
Publisher: Industrial Press, Inc, Year: 2010
ISBN: 978-0-8311-3350-4,0831133503
CNC Control Setup for Milling and Turning Mastering CNC Control Systems PDF