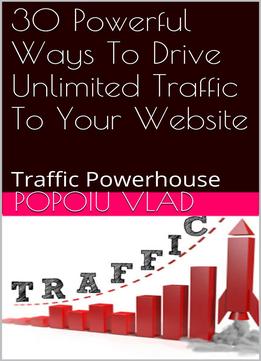 30 Powerful Ways To Drive Unlimited Traffic To Your Website
Book Description:
Every of a website dreams of receiving a huge stream of traffic to their website. Without missing my words, having a website without traffic is useless because the traffic is your
audience. The unfortunate bit is that most people do not get enough traffic required to reach their goals. With traffic, the ideas that would go through your mind as a website owner are unlimited. The million-dollar question now is, "how to get traffic?"
For now, you might as well give that Google search some rest from punching all the keywords like; how to get traffic, free traffic and the like and start concentrating on this book. I have compiled a very comprehensive list of 30 ways that will help you drive unlimited traffic to your website. If you invest your time into the methods that I am about to reveal, am pretty sure you will succeed in getting a nice stream of traffic to your website.
30 Powerful Ways To Drive Unlimited Traffic To Your Website Traffic Powerhouse
Author(s): Vlad, Popoiu
Year: 2015