| | |
| --- | --- |
| Book Name: | [PDF] Structural Engineering Handbook |
| Category: | Civil Engineering Books |
| Language: | English |
| Format: | PDF |
| Free Download: | Available |
Free Download Structural Engineering Handbook PDF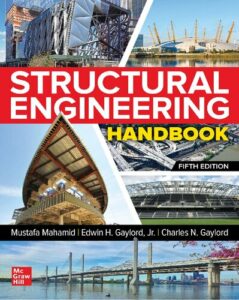 Book Description:
This handbook has been the best source for structural engineering specifications, codes, technologies, and procedures for the past 50 years. The book has been updated to align with the codes governing structural design and materials. These include the IBC, ASCE 7, ASCE 37, ACI, AISC, AASHTO, NDS, and TMS codes. This one-of-a-kind resource is short, helpful, and easy to understand. It gives real-world examples and detailed explanations of how design is done today.
Structural Engineering Handbook, Fifth Edition, covers:
• Computer applications in structural engineering
• Earthquake engineering
• Fatigue, brittle fracture, and lamellar tearing
• Soil mechanics and foundations
• Design of steel structural and composite members
• Plastic design of steel frames
• Design of cold-formed steel structural members
• Design of aluminum structural members
• Design of reinforced- and prestressed-concrete structural members
• Masonry construction and timber structures
• Arches and rigid frames
• Bridges and girder boxes
• Building design and considerations
• Industrial and tall buildings
• Thin-shell concrete structures
• Special structures and nonbuilding structures
About the Author
McGraw-Hill authors are the top experts in their fields and are committed to helping readers worldwide improve their lives, careers, and interests.
Mustafa Mahamid, Ph.D., S.E., P.E., F.SEI, F.ASCE, is a Clinical Associate Professor at the University of Illinois at Chicago and a member of the AccessEngineering Faculty Advisory Board. He was a structural engineer at GRAEF and Skidmore, Owings & Merrill in the past. He is a Fellow of the Structural Engineering Institute of ASCE and works on several technical committees that ACI and ASCE/SEI run.
Edwin H. Gaylord, Jr. was a Professor of Civil Engineering at the University of Illinois, Urbana-Champaign.
The late Charles N. Gaylord was a Professor of Civil Engineering at the University of Virginia.
Download Structural engineering handbook PDF 
Author(s): Edwin Henry Gaylord (editor); Charles N. Gaylord (editor); Mustafa Mahamid (editor)
Publisher: Mcgraw hill Education, Year: 2020
ISBN: 9781260115987,1260115984
Related More Books