| | |
| --- | --- |
| Book Name: | Stress Test: Reflections on Financial Crises |
| Category: | Politics Books |
| Language: | English |
| Format: | PDF |
| Free Download: | Available |
Free Download Stress Test: Reflections on Financial Crises EPUB Book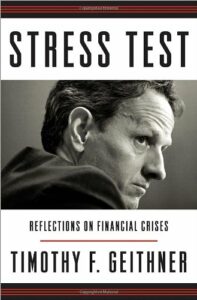 Book Description:
The story of how Tim Geithner learned from financial crises is told in the book Stress Test.
As president of the Federal Reserve Bank of New York and then as President Barack Obama's secretary of the Treasury, Timothy F. Geithner helped the United States get through the worst financial crisis since the Great Depression, from boom to bust to rescue to recovery. He takes readers behind the crisis scenes in an honest, exciting, and historically informative memoir. He explains the hard choices and politically unpopular decisions he made to fix a broken financial system and keep the Main Street economy from falling apart. This is the inside story of how a small group of policymakers, working in a thick fog of uncertainty with unimaginably high stakes, helped stop a second depression but lost the American people in the process. A stress Test is also a good way for governments to learn how to handle future financial crises better since this one won't be the last.
Stress Test shows a side of Secretary Geithner that the public has never seen before, starting with his childhood as an American living abroad. He talks about his early days as a young Treasury worker who helped fight the international financial crises of the 1990s. He then talks about what he saw, what he did, and what he missed at the New York Fed before the Wall Street boom went bust. He takes readers inside the room as the crisis starts, gets worse, and gets out of control. He talks about the most controversial parts of his time at the New York Fed and the Treasury, such as the rescue of Bear Stearns, the terrifying weekend when Lehman Brothers failed, the searing crucible of the AIG rescue, and the uproar over the company's lavish bonuses, and the battles inside the Obama administration over his widely criticized but ultimately successful plan to save the economy. Secretary Geithner also talks about the effects of the crisis, such as what the government is doing to deal with high unemployment, the brutal political fights over deficits and debt, and the drama surrounding Europe's repeated flirtations with the edge of the economic cliff.
Secretary Geithner is not a politician, but he has a lot to say about politics, including how silly, mean, and hard it was on his family. But in the end, Stress Test is a story about public service full of hope. In this exciting memoir, Tim Geithner shows how America's political and financial systems passed the ultimate test of their strength.
Download Stress Test: Reflections on Financial Crises EPUB 
Author(s): Timothy F. Geithner
Publisher: Crown, Year: 2014
ISBN: 0804138591,9780804138598
Related More Books