| | |
| --- | --- |
| Book Name: | Solar Cell Technology and Applications PDF |
| Language: | English |
| Format: | PDF |
| Free Download: | Available |
Solar Cell Technology and Applications by A.R. Jha, Ph.D. | PDF Free Download.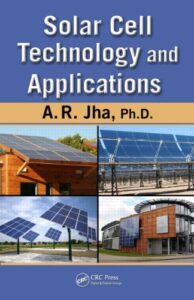 ---
Book Details :
Language
English
Pages
308
Format
PDF
Size
6.19 MB
Complete Coverage of the Latest Advances In the Field
Energy experts predict that wholesale electricity prices could easily rise 35 to 65 percent by 2015. Add to this the growing need for energy independence and the need to reduce carbon emissions and it is very clear that the development of low-cost renewable energy, such as solar energy, is essential for our economy and our national security. With the potential for low-cost, renewable energy that can create jobs while reducing our dependency on foreign oil, solar cell technology provides a very attractive and plausible option.
Presenting a well-balanced mix of theory and applications, Solar Cell Technology and Applications addresses critical design aspects representing cutting-edge solar cell technology. It offers those engaged in the design and development of low-cost, high-efficiency solar cells complete coverage of the latest advances in the field—including low-cost, high-efficiency elements and the latest approaches in solar cell designs. Coverage includes:
Latest performance parameters and cost projections for cells and complete solar energy systems
Important properties of the semiconductor and compound materials best suited for the fabrication of solar cells
Techniques for performance improvements in solar cells and panels—emphasizing cost, reliability, and longevity
Integration of organic dye technology in the development of solar devices
Mathematical expressions and their derivations—highlighting performance enhancement
Using conventional nomenclature, a consistent set of symbols, and identical units for ease of comprehension, this time-saving resource supplies pioneering engineers, research scientists, professors, and students with the understanding needed to spark the advancements that must be made to maximize the economic and environmental benefits of this relatively untapped and abundant renewable energy resource.
Solar Cell Contents
---
Chronological History and Scientific Advancements in the Development of Solar Cell Technology

Design Expressions and Critical Performance Parameters for Solar Cells

Classification of Solar Cells Based on Performance, Design Complexity, and Manufacturing Costs

Techniques to Enhance Conversion Efficiencies of Solar Cells

Solar Cells Deploying Exotic Materials and Advanced Design Configurations for Optimum Performance

Solar Cell and Array Designs Best Suited for Space Applications

Design Requirements for Stand-Alone and Grid-Connected PV Systems

Performance Capabilities and Economic Benefits of Potential Alternate Energy Sources
Foreword to Solar Cell Technology and Applications PDF
---
Fossil fuels such as coal, oil, and gas have been the primary means of energy generation for many centuries.
However, thanks to global warming caused by burning fossil fuels, compounded by greater energy demand due to improved living standards and geopolitical tensions over oil resources and nuclear energy, we are facing a threat to the planet's well-being not seen since the last ice age.
There is a new interest in renewable energy sources such as those derived from wind power, hydropower, or conversion of fast-growing crops into ethanol.
These are more universally available and they can potentially help with global warming by reducing the carbon footprint.
Then, there is a third kind of energy source based on the photovoltaic conversion of sunlight into electricity by certain widely available semiconductors, which is arguably the cleanest, most ubiquitous, and potentially the most reliable alternative.
Dr. Jha's Solar Cell Technology and Applications addresses this important topic. The solar cell concept is a simple reverse-biased p-n junction which converts absorbed light into electron-hole pairs and then into a small dc voltage.
The cells may be stacked to charge a 12V automobile battery or to feed a power grid via a DC/AC inverter.
Fortunately, among all the semiconductors suitable for this purpose, including newly discovered organic semiconductors, compound semiconductors such as CdTe, CuInGaSe2, and GaAs, silicon is one of the most abundant materials in the earth's crust.
The book is divided into eight chapters which cover the whole gamut of solar cell technologies and applications:
 Chronology of scientific and technological developments since the invention of the solar cell at Bell Laboratories in 1954
Design principles, equations, and models for bulk as well as thin-film cells
Technology needs for residential, commercial, and utility power segments
Certain universal techniques for enhancing solar conversion efficiencies
Roadmap for the next two generations of designs and materials
Solar panel design and technology for extraterrestrial applications
Systems engineering for standalone and grid-connected installations
Relative economics of photovoltaic energy technologies over all the rest
Dr. Jha has published extensively on a wide variety of technical topics. This book continues to provide a testimonial to his unique ability to capture the essence of complex technologies in their entirety.
Like the other books he has written, this volume also is closely grounded in real-life applications. He is addressing a problem that will only grow in importance over the coming years.
It should help train a new generation of technical leaders well versed in the tradeoffs associated with multi-GW energy ecosystems.
This book will be most beneficial, particularly to students who wish to expand their knowledge on the subject, project engineers, solar cell designers, solar power systems installers for residential and commercial applications, and space radiation-hardened solar power modules for space system applications.
Download Solar Cell Technology and Applications PDF 
Author(s): A. R. Jha
Publisher: Auerbach Publications, Year: 2009
ISBN: 1420081772,9781420081770
Download Solar Cell Technology and Applications PDF in PDF Format For Free. 
Related More Books
See More POST On : Engineering Books