| | |
| --- | --- |
| Book Name: | Small Woodworking Projects Editors of Fine Woodworking |
| Language: | English |
| Format: | PDF |
| Free Download: | Available |
Download Small Woodworking Projects Editors of Fine Woodworking | PDF Free Download. 
Book Details :
Language
English
Pages
178
Format
PDF
Size
22.8 MB
Small Woodworking Projects Editors of Fine Woodworking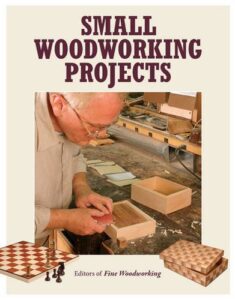 Book Description: 
Nothing beats seeing your woodworking on display or the reaction you get when you give your work as a gift. The problem is finding enough time to complete all of the projects you want to do. This book will help. Small Woodworking Projects is a collection of approachable projects from Fine Woodworking magazine that will tempt and satisfy even the most discriminating of woodworkers.
You don't need a giant shop, formal training or tons of free time to build the useful, attractive pieces in this collection. All you need are basic woodworking tools and skills. Projects range from boxes perfect for gift giving, to tools for the workshop, to items perfect for the home and they run the gamut from simple to elaborate. With the exploded drawings, detailed plans, and clear step-by-step instructions Fine Woodworking is know for, this is a must have collection for every woodworker.
Small Woodworking Projects Contents
---
Part One Boxes
A Box Worth Repeating 

Two Fast Ways To Build A Box 

Build A Sturdy And Striking Box 

An Elegant Jewelry Box 

Elegant Veneered Boxes 

Pennsylvania Spice Box
Part Two Accessories
A Unique Cutting Board 

Two-Sided Standing Frame

Build A Greene-And-Greene Picture Frame 

A Chessboard Made Easy

Two Unique Lamps
Part Three Tools
Turn A Carver's Mallet

Get A Handle On Your Chisels 

Wood Planes Made Easy 

Tool Chest With Drawers
Part Four Furniture
Comfortable Seat For Two

A Classic Step Stool 

A Portable Book Rack 

Arts And Craft S Wall Shelf 

Shaker Side Table 

Blanket Chest By Hand
Introduction to Small Woodworking Projects PDF
---
Woodworking is a wonderful hobby. There's nothing like spending hours in the shop building something for your home or for your family.
No computers, phones, bills, or other distractions. Just me, my tools, and some sweet-smelling wood. But it is time-consuming, with some projects taking weeks or even months to complete.
That's tough, especially if, like me, you have a full-time job, children, and family responsibilities, such as coaching sports, helping with homework, and doing the usual housework and yard work.
Wouldn't it be nice if you could build a project start to finish in a weekend or a few days? Well, Small Woodworking Projects is here to help.
This collection of furniture projects from Fine Woodworking magazine features a number of tasteful projects that are perfect for time-constrained woodworkers. Inside you'll get a variety of box-making techniques and projects, from simple boxes that can be made in bunches (great for gifts!) to an American classic, the Pennsylvania spice box.
You also get instructions on how to make some great home accessories, such as a cutting board like no other, simple picture frames, and a couple of table lamps.
We've even included some small shop projects, like a mallet and an oak tool chest for your benchtop. But there's also big-time furniture in this small project collection.
You'll get step-by-step instructions for building a handy step stool, a Shaker side table, and a blanket chest, to name a few. Best of all, you can start any of these projects today.
All the planning is done for you. All you need to do is buy the wood and get to work. Enjoy your time in the shop.
Download Small woodworking projects PDF 
Author(s): Editors of Fine Woodworking
Series: Best of fine woodworking
Publisher: Taunton Press, Year: 1992
ISBN: 978-1-63186-131-4
Download Small Woodworking Projects Editors of Fine Woodworking in PDF Format For Free. 
Related More Books
See More POST On : Engineering Books