| | |
| --- | --- |
| Book Name: | Show Your Work 10 Ways to Share Your Creativity and Get Discovered |
| Category: | A Special Books |
| Language: | English |
| Format: | PDF |
| Free Download: | Available |
Show Your Work! 10 Ways to Share Your Creativity and Get Discovered by Austin Kleon | PDF Free Download.
---
Book Details :
Language
English
Pages
150
Format
PDF
Size
5.22 MB
---
Show Your Work 10 Ways to Share Your Creativity and Get Discovered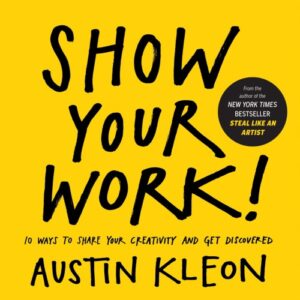 ---
Author of Show Your Work 10 Ways to Share Your Creativity and Get Discovered
---
Austin Kleon is a writer who draws. He is the author of the national bestseller Steal Like an Artist and the redacted poetry collection Newspaper Blackout.
He speaks frequently about creativity in the digital age for SXSW, TEDx, The Economist, and more, and his work has been featured in The New York Times, The Wall Street Journal, and on NPR and PBS.
Show Your Work Contents
---
You Don't Have to Be a Genius.

Think Process, Not Product.

Share Something Small every day.

Open Up Your Cabinet of Curiosities.

Tell Good Stories.

Teach What You Know.

Don't Turn Into Human Spam.

Learn to Take a Punch.

Sell Out.

Stick Around.
Preface to Show Your Work 10 Ways to Share Your Creativity and Get Discovered
---
A New Way of Operating
When I have the privilege of talking to my readers, the most common questions they ask me are about self-promotion. How do I get my stuff out there? How do I get noticed? How do I find an audience? How did you do it? I hate talking about self-promotion.
Comedian Steve Martin famously dodges these questions with the advice, "Be so good they can't ignore you." Martin says people will come to you if you focus on getting really good. I happen to agree: You don't really find an audience for your work; they find you.
But it's not enough to be good. In order to be found, you have to be findable. I think there's an easy way of putting your work out there and making it discoverable while you're focused on getting really good at what you do.
Almost everyone I look up to and try to steal from today, regardless of their profession, has built sharing into their routine.
These people aren't schmoozing at cocktail parties; they're too busy for that. They're cranking away in their studios, their laboratories, or their cubicles, but instead of maintaining absolute secrecy and hoarding their work, they're open about what they're working on, and they're consistently posting bits and pieces of their work, their ideas, and what they're learning online. Instead of wasting their time "networking," they're taking advantage of the network.
By generously sharing their ideas and knowledge, they often gain an audience they can leverage when they need it—for fellowship, feedback, or patronage. I wanted to create a kind of beginner's manual for this way of operating, so here's what I came up with: a book for people who hate the very idea of self-promotion.
An alternative, if you will, to self-promotion. I'm going to try to teach you how to think about your work as a never-ending process, how to share your process in a way that attracts people who might be interested in what you do, and how to deal with the ups and downs of putting yourself and your work out in the world.
If Steal Like an Artist was a book about stealing influence from other people, this book is about how to influence others by letting them steal from you.
Imagine if your next boss didn't have to read your résumé because he already reads your blog. Imagine being a student and getting your first gig based on a school project you posted online.
Imagine losing your job but having a social network of people familiar with your work and ready to help you find a new one. Imagine turning a side project or a hobby into your profession because you had a following that could support you.
Or imagine something simpler and just as satisfying: spending the majority of your time, energy, and attention practicing a craft, learning a trade, or running a business, while also allowing for the possibility that your work might attract a group of people who share your interests.
Show your work!: 10 ways to share your creativity and get discovered
Author(s): Kleon, Austin
Publisher: Workman Publishing Company, Year: 2014
ISBN: 9780761178972,076117897X
Download Show Your Work 10 Ways to Share Your Creativity and Get Discovered in PDF Format For Free. 
Related More Books
See More POST On : A Special Books