| | |
| --- | --- |
| Book Name: | Seeing the big picture Book |
| Category: | Business Books |
| Language: | English |
| Format: | PDF |
| Free Download: | Available |
Free Download Seeing the big picture: business acumen to build your credibility, career, and company Epub Book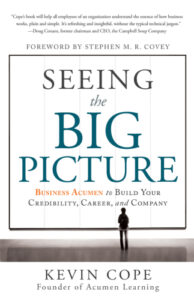 Book Description: 
The most successful business leaders are, first and foremost, good at running a business. Seeing the Big Picture gives you an MBA in less than 180 pages. It breaks down the complicated parts of both big and small businesses and shows how a deep understanding of your company can help you build the credibility and career you want. It can also make your work more meaningful and give you a sense of purpose by showing how you contribute to the success of your team, department, or organization. Every company's success or failure comes down to five simple things: cash, profit, assets, growth, and people.
Kevin Cope will help you see how your day-to-day decisions can balance these drivers and help your organization succeed in the long run. You'll learn the skills to give your work real value and passion. You can learn how to follow the drivers to measurable results whether you work on the factory floor or in the corner office. This will help you get over your fear of numbers. Using Kevin's simple explanations of the most critical numbers on the income statement, the balance sheet, and the statement of cash flows, you can quickly scan financial reports for signs of success or impending failure. You can convince leaders of the value of your ideas, improve your team's performance, or even start your own business. Regardless of your goal, you should learn the essential business skills every businessperson needs and find new ways to prove your worth.
Table of contents :
pt. I. 5 key drivers of any business and how to influence them. 1. Cash
2. Profit
3. Assets
4. Growth
5. People
6. The big picture: linking the five drivers
pt. II. Simplifying financial statements through the 5 drivers. 7. Deciphering financial statements and the annual report
8. Income statement: tracking profit
9. Balance sheet: tracking assets
10. Statement of cash flows
Securing your seat at the table.
Download Seeing the big picture: business acumen to build your credibility, career, and company Epub Book  
Author(s): Cope, Kevin
Publisher: Greenleaf Book Group Press, Year: 2012
ISBN: 9781608322473,1608322475
Related More Books