| | |
| --- | --- |
| Book Name: | [PDF] Project Management Planning and Control |
| Category: | Engineering Books |
| Free Download: | Available |
Project Management Planning and Control by Albert Lester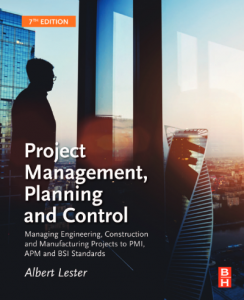 The success of the sixth edition has prompted the publishers to suggest an updated version in the form of a seventh edition.
For this reason, the bulk of the sixth edition has remained the same, but the chapters dealing with the newer developments in project management such as BIM, Governance and Agile PM have been updated to reflect the latest techniques.
The example of the hotel conversion, given in Chapter 51 (sixth edition) on Primavera P6, only referred to risk analysis in the text, and this has now been augmented by the addition of the risk analysis calculations and the associated tables and graphs.
New facets of project management are appearing all the time, but the topics forming part of Integrative Management,
such as business case, control, information management, organization, planning, information management, and stakeholder management are largely unchanged.
However, three new topics, i.e., data collection (including Big Data), which is part of information management, baseline reviews and sustainability have now been incorporated.
In addition, some subjects such as adjudication, earned schedule and meetings have been expanded. For readers intending to take the APMP examination,
a set of bullet points based on selected topics given in the APM Body of Knowledge (sixth edition) are included in the book as Appendix 7.
This list was based on the course notes prepared by the author for students attending the project management course at UCL.
Furthermore, the answers to the examination questions in Appendix 4, which have been increased from 50 to 60, are now given in Appendix 8.
The bibliography has been updated, mainly with the addition of books related to the BIM and Agile Project Management both of which are relatively recent additions to the sphere of project management.
As with the sixth edition, the contributions by Graham Collins (Agile Project Management), Clive Robinson (BIM), David Shannon (governance), and Arnaud Morvan (Primavera P6) add great value to this book and are acknowledged with thanks.
Table Of Content: 
Chapter 1: Project Definition
Chapter 2: Project Management
Chapter 3: Programme and Portfolio Management
Chapter 4: Project Context (Project Environment)
Chapter 5: Business Case
Chapter 6: Investment Appraisal
Chapter 7: Stakeholder Management
Chapter 8: Project-Success Criteria
Chapter 9: Organization Structures
Chapter 10: Organization Roles
Chapter 11: Project Life Cycles
Chapter 12: Work Breakdown Structures
Chapter 13: Estimating
Chapter 14: Project Management Plan
Chapter 15: Risk Management
Chapter 16: Quality Management
Chapter 17: Change Management
Chapter 18: Configuration Management
Chapter 19: Basic Network Principles
Chapter 20: Planning Blocks and Subdivision of Blocks
Chapter 21: Arithmetical Analysis and Floats
Chapter 22: The Case for Manual Analysis
Chapter 23: Lester Diagram
Chapter 24: Graphical and Computer Analysis
Chapter 25: Milestones and Line of Balance
Chapter 26: Simple Examples
Chapter 27: Progress Reporting
Chapter 28: Project Management and Network Planning
Chapter 29: Network Applications Outside the Construction Industry
Chapter 30: Resource Loading
Chapter 31: Cash-Flow Forecasting
Chapter 32: Cost Control and EVA
Chapter 33: Control Graphs and Reports
Chapter 34: Procurement
Chapter 35: Value Management
Chapter 36: Health, Safety and Environment
Chapter 37: Information Management
Chapter 38: Communication
Chapter 39: Team Building and Motivation
Chapter 40: Leadership
Chapter 41: Negotiation
Chapter 42: Conflict Management and Dispute Resolution
Chapter 43: Governance
Chapter 44: Project Close-Out and Handover
Chapter 45: Project Close-Out Report and Review
Chapter 46: Stages and Sequence
Chapter 47: Worked Example 1: Bungalow
Chapter 48: Worked Example 2: Pumping Installation
Chapter 49: Worked Example 3: Motor Car
Chapter 50: Worked Example 4: Battle Tank
Chapter 51: Primavera P6
Chapter 52: Building Information Modelling (BIM)
Download Free PDF Book : Project Management Planning and Control
Get Paper Book :Project Management Planning and Control by Albert Lester
Project Management, Planning and Control: Managing Engineering, Construction and Manufacturing Projects to PMI, APM and BSI Standards PDF
Author(s): Albert Lester
Publisher: Butterworth-Heinemann
Year: 2021
ISBN: 0128243392
Related Results : project management planning and control (sixth edition) pdf,project management planning and control 7th edition pdf,project management planning and control albert lester pdf,project management planning and control pdf,project management planning and control techniques 5th edition pdfproject management planning and control techniques pdf,
Related More Books
See More POST On : Engineering Books