| | |
| --- | --- |
| Book Name: | [PDF] Power Systems Analysis By John Grainger |
| Category: | Power Systems |
| Language: | English |
| Format: | PDF |
| Free Download: | Available |
Power Systems Analysis By John Grainger, William Stevenson Jr. – Stevenson and Granger's Power Systems Analysis 1st Edition is a comprehensive book for undergraduates taking up power systems as a course in their study. The book covers the topics of basic concepts, transformers, transmission line parameters & performance, network models, power flow solutions, 3-phase faults, symmetrical components and applications, economic operation and power system stability. In addition the book has been prepared with all the latest developments in the subject and gives many examples and logical discussions for the same.
Power System Analysis

By

John

Grainger
Published by 

McGraw-Hill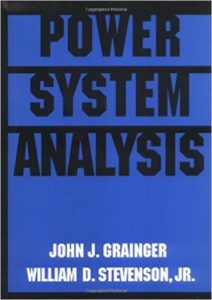 Power System Analysis
PDF Book & Solution Manual
Power System Analysis Textbook by John J. Grainger and William D. Stevenson
Book Description:
 Elements of Power System Analysis, this new senior/graduate text offers a completely modern update of this popular textbook. Covering such topics as power flow, power-system stability and transmission lines, the book teaches the fundamental topics of power system analysis accompanied by logical discussions and numerous examples.
Book Contents:
Chapter 1 Basic Concepts
Chapter 2 Transformers
Chapter 3 The Synchronous Machine
Chapter 4 Series Impedance of Transmission Lines
Chapter 5 Capacitance of Transmission Lines
Chapter 6 Current and Voltage Relations on a Transmission Line
Chapter 7 The Admittance Model and Network Calculations
Chapter 8 The Impedance Model and Network Calculations
Chapter 9 Power Flow Solutions
Chapter 10 Symmetrical Faults
Chapter 11 Symmetrical Components and Sequence Networks
Chapter 12 Unsymmetrical Faults
Chapter 13 Economic Operation of Power Systems
Chapter 14 Zbus Methods in Contingency Analysis
Chapter 15 State Estimation of Power Systems
Chapter 16 Power System Stability
Buy PaperBook:POWER SYSTEM ANALYSIS
Power System Analysis PDF
Author(s): William D. Stevenson, John J. Grainger
Publisher: McGraw Hill Education, Year: 1994
ISBN: 0070612935,9780070585157,0070585156
Free Download POWER SYSTEM ANALYSIS BY JOHN J. GRAINGER; WILLIAM D. STEVENSON, JR. PDF eBook
Book Solution
Book
Related Results : best book for electrical power systems,best books electrical power systems,ebook of electrical power system,electrical engineering power systems books,electrical machines drives and power systems bookelectrical power system analysis book pdf,
Related More Books
See More POST On : Engineering Books