| | |
| --- | --- |
| Book Name: | [PDF] Spoken English Learned Quickly |
| Category: | English Grammar Books |
| Language: | English |
| Format: | PDF |
| Free Download: | Available |
Free Download Spoken English Learned Quickly by Lynn Lundquist PDF Book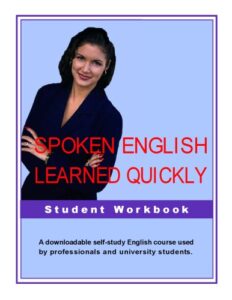 Spoken English Learned Quickly (Student Workbook) by Lynn Lundquist is a comprehensive guide designed to help non-native speakers of English master the language quickly and effectively. The workbook contains various exercises and activities designed to improve students' listening, speaking, reading, and writing skills. The book includes lessons on grammar, vocabulary, pronunciation, and sentence structure, as well as practical tips on communicating effectively in various social and professional settings.
Its unique approach sets this workbook apart from other language-learning resources. Rather than simply presenting learners with rules and formulas to memorize, the author encourages them to engage actively with the language through interactive exercises, drills, and conversation practice. Each chapter contains multiple examples of authentic English usage and explanations and activities to reinforce what has been learned.
Spoken English Learned Quickly (Student Workbook) is an invaluable resource for anyone looking to improve their English language skills, whether for academic, personal, or professional reasons. This book will help students achieve fluency and confidence in spoken English with its clear, concise writing style and effective teaching methods. In addition, the book teaches creativity and creativity, encouraging students to express themselves in their own words and to avoid violence. Whether you're a beginner or an advanced learner, this book will help you reach your language goals.
Spoken English Learned Quickly (Student Workbook) PDF 
Related More Books
See More POST On : GRE & IELTS Materials